Blue Nile
(3 / 5)

Everyone is familiar with Blue Nile. They are the powerhouse of loose diamonds online and have been operating their online diamond business since 1999. Based in Seattle, Washington, their advantage in the online diamond market is shear size. At the time of this writing (October 2016), they have more than 230,000 diamonds available for search online at any given time.
The company continues to stay competitive and is still the largest online retailer for loose diamonds and engagement rings. In fact, it is estimated that Blue Nile is nearly three times larger than their nearest competitor! Diamond rings still make up about 70% of Blue Nile's sales as they cater to the first time diamond buyer. Because most men don't have a clue about how to go about purchasing a diamond, they rely upon Blue Nile to help educate and steer them in the right direction.
The future growth of Blue Nile looks promising as well with Blue Nile putting more focus on the non-engagement jewelry market for repeat customers throughout the year. Blue Nile's long time specialty has been their very popular "design-your-own-engagement" ring tool. It is probably a well known fact by now that Blue Nile doesn't own or house the 230,000 diamonds that are in their "inventory". They instead utilize the drop-shipping business practice of showcasing diamonds on their website that are really owned and housed by various diamond vendors located anywhere in the world. Some consumers don't seem to mind this, as many businesses use this practice to save on inventory and overhead costs. However, with the diamond business this can lead to serious quality and customer service issues.
Blue Nile 'Signature Ideal' Diamonds
Another issue that I've have seen over and over again is the story behind Blue Nile's 'Signature-Ideal' collection of diamonds. People want to know what this distinction means, how are these diamonds different? Well, to answer these questions one needs to do a little investigative work. First of all, Blue Nile has stated that their signature ideal diamonds have the following standards:
Depth % – 60.1 – 61.9%
Table % – 55.0 – 57.0%
Polish – Ideal
Symmetry – Ideal
However, this can be misleading because though a diamond may fit these proportion ranges, a diamond isn't a perfect ideal cut diamond just because it has these proportions. A diamond has to strike a balance with ALL proportions and this includes table %, depth %, crown angle and pavilion angle. Its just not as simple as this. Blue Nile's Signature Ideal's come with a 3rd party Gem Certification and Assurance Lab (GCAL) certificate. See below…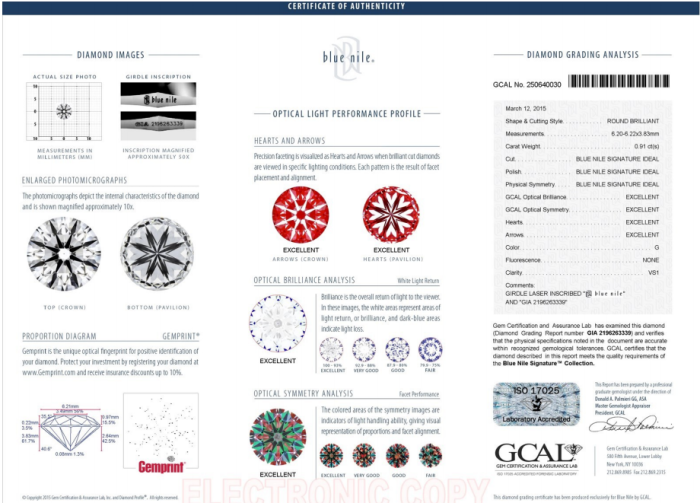 GCAL is an independent diamond research and identification laboratory located in New York, New York. It appears that Blue Nile has branded GCAL's Diamond Audit Guaranteed Certificate. This report bascially verifies the accuracy of another lab's grading report. The report information says, "If the diamond meets GCAL's grading standards, then it qualifies for certification and GCAL's "Zero Tolerance" 4C's Consumer Guarantee". However, why do we need to verify or confirm a GIA report? That is redundant as GIA is one of the top leading gem labs in the world. Why are consumers expected to pay a premium on these diamonds just to be independently certified by a 3rd party lab and to have it laser inscribed with the Blue Nile logo and cert number?
Are Blue Nile 'Signature' Ideal Diamonds Hearts and Arrows Super-Ideal Diamonds?
What about the H&A image on the above GCAL report? Does Blue Nile want consumers to think that their 'Signature' ideal cut diamonds are also super-ideal hearts and arrows diamonds? For example, if we viewed a close-up view of the above .91ct G VS1 for $7,223.99 we would see this: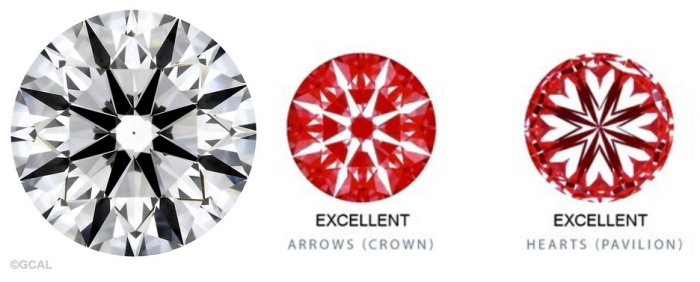 You might think, what is wrong with this picture? Well, if you are educating yourself on precision cut hearts and arrow diamonds, you'll know that this diamond's optical symmetry is very poor. The hearts are not uniform in shape and the clefts are far too deep. Compare this to a .903ct G VS2 'Signature' BGD H&A diamond for $6,912.00:

When you compare images next to each other the difference is obvious. I'm not sure how GCAL can ethically consider the above .91ct G VS1 as an 'Excellent' in H&A optical symmetry. This is clearly taking advantage of the consumer. The only conclusion that I can assume is that the 'Signature' branding doesn't have any value other than Blue Nile's logo inscribed on the girdle. I do not recommend paying a premium for these diamonds just because of this.
Why Most People Still Buy From Blue Nile:
Be that as it may, many people contact me still looking to purchase from Blue Nile because they offer easy country based shipping without the worry of customs fees or additional taxes. Another big incentive for buyers is the Blue Nile Credit Card which offers various financing options that many people like to conveniently take advantage of. So, if you are one of those consumers that would still rather purchase from Blue Nile, I recommend searching for a diamond using the following steps:
Step 1 – Go to Blue Nile's Search for Diamonds page and enter in the following:
– Enter round brilliant for your desired diamond shape, carat weight, and diamond color
– Leave the Price parameter untouched
– Choose "very good", "ideal", "signature ideal" for cut
– Choose your desired clarity grade (recommend VS2 – VS-1) (SI1's may not be eye-clean and therefore without pictures it is safer to choose a VS2 or better in clarity)



Step 2 – Advanced Criteria (Very Important!)
– Choose 'excellent/ideal' polish and symmetry
– Choose 53% to 58% Table (55%-57% is optimal but will show less results)
– Choose 59.5 to 62.5% Depth (60% to 61.7% is optimal but will show less results)
– Leave everything else blank
*It's important to note that we cannot search by crown or pavilion angle and so, we are limited in this capacity as well.
Step 3 – Results The results that show up according to the above parameters is a refined list of available diamonds that are of top cut qualities. Go through the list and see if there are any that have available images. Blue Nile has now loaded some magnified images of their 'Signature Ideal' cut diamonds so you may be able to find one that has an exceptionl cut. Outside of a magnified image, you are further limited to searching for AGS graded diamonds. Try to find an AGS graded diamond with an AGS's Platinum Diamond Quality Document. These specific lab reports have an electronic ASET image to help illustrate light performance. An ASET image is vital when evaluating how well a diamond is cut and how brilliant/sparkly it will be.
Most of Blue Nile's loose diamonds are GIA certified. If you limit your search to GIA graded diamonds (without GCAL images) only, you are essentially buying blind. It is very possible to find a GIA graded diamond that looks good on paper but isn't cut well. To see an example of this, please read the Q&A found here. It's important to know that GIA has a wider spectrum of what they consider an "excellent" cut. AGS on the other hand are much more strict in what they consider an 'ideal' cut diamond. Both labs are highly reputable but there are some major differences that each consumer should be made aware of. For more information on these two labs, please read GIA vs AGS.
Why Struggle Finding A Needle In A Haystack When There Are Much Easier Diamond Search Options?
As the age of information continues to grow, more and more people are turning to the internet for reviews, pricing information, customer service, and product consistency. Although Blue Nile is the largest diamond retailer online, there are other diamond vendors that make the search process much easier and very transparent (see my five star recommended diamond vendors to see what I mean).
As illustrated above, boutique retailers like BGD offer critical information that Blue Nile just doesn't (and cannot) support. For example, all diamonds sold from BGD are fully owned in-house and offer 360 HD magnified videos, magnified actual images, ASET, ideal-scope, and hearts and arrows images to help evaluate a diamond online. This is in direct contrast to Blue Nile where they have no actual diamond images to view. With the growing online diamond market, these tools are becoming a necessity and that is why other diamond retailers are quickly gaining traction and notoriety within the industry. If any diamond vendor wants to stay afloat in this market, they will eventually need to step up their game and add this technology to their arsenal of selling tools.
Blue Nile Offers:



– Free delivery for both domestic and international orders
– Blue Nile Credit Card with various financing options
– 30 day return policy
– Conflict-free diamonds
– Specific Canadian diamond selection (for those that are very concerned about where their diamonds are sourced)
– New fancy diamond collection online
Some Disadvantages:
– No magnified pictures of any diamonds online (except with the rare case of a few Blue Nile Signature Diamonds with GCAL report)
– Blue Nile Signature Diamonds have H&A GCAL reports which are misleading to consumers. These reports are not to be be used as confirmation if evaluating a H&A precision cut diamond
– Blue Nile drop ships most of their diamonds
– No longer the cheapest and most competitively priced for loose diamonds online
What Do YOU Think?
Blue Nile has plenty of diamonds in their virtual inventory, but no diamond images. How is a consumer supposed to evaluate a diamond and spend thousands of dollars, sight-unseen without this critical data? It's about time Blue Nile catches up and starts providing consumers with the necessary information to make an educated buying decision. Even ODBA has a diamond search tool with images – so there really is no excuse.

Loading ...
Hey.You Want Ideal Cut Diamonds?
You've got it.
Join ODBA's Diamond Deal Friday and get handpicked diamonds every week from me to you.
No consultation required. Subscribe now!