Leibish & Co
Home To Fancy Colored Diamonds

(5 / 5)

Leibish & Co. is an international online dealer for natural fancy colored diamonds and jewelry based out of Israel in the Diamond Exchange. Managing Director, Founder and President Leibish Polnauer started the business in 1979 with a specialty and focus on all things colored diamonds.

As a family based business, Leibish understands that selling rare and unique natural fancy colored diamonds is both an art as well as a business. As one of the first to take advantage of the internet and enjoy a global community of fancy colored diamond lovers, Leibish & Co continue to innovate in this niche market by designing, manufacturing, and marketing their fancy colored jewelry.

Leibish sells all colors of the rainbow including: hues of pink, yellow, blue, orange, green, champagne, red, purple, violet, gray, black, white, and a multitude of combinations of these colors that come in all shapes and sizes. However they do have a particular interest in Argle Pink and Canary Yellow diamonds. All diamonds in their personal inventory are sourced from the world's major diamond deposits including: Australia, Africa, India, and Russia with full compliance in conflict-free sourcing. Leibish also has expanded their 'world of color' to include high quality precious gems like ruby, sapphire, and emeralds to their jewelry designs.
Most Important 'C' – Fancy Colored Diamonds
Fancy colored diamonds differ from their colorless cousins in terms of valuation. For example, color, is by far the most important C with intensity of color playing a large part in overall rarity and value.
There are 12 main fancy colors including Yellow, Pink, Blue, Green, Orange, Brown (Champagne), Violet, Gray, Purple, Red, Fancy Black and Fancy White which may contain one single pure color or have up to three overtones of other colors. With fancy colored diamonds, the color and intensity are valued most and can range from faint, very light, light, fancy light, fancy, fancy intense, fancy vivid, and fancy deep.
Following color, carat weight, clarity and cut grade are all secondary factors in terms of value. Fancy colored diamonds are loved for their unique color and extreme rarity. Of course, like their colorless cousins, all fancy colored diamonds will have an accompanying grade report from GIA, Argyle, IGI, or a Leibish & Co. in-house report.
Fancy Colored Diamond Engagement Rings
Leibish & Co. caters to discriminating buyers that value rarity and uniqueness. As engagement rings are an extremely personal gift symbolizing a unique union between two individuals, fancy colored diamonds from Leibish make for a very special gift indeed…









Buying Your Fancy Colored Diamond From Leibish & Co
Whether you are in the market for a fancy colored diamond for investment, collection, personal jewelry, or a gift Leibish & Co will be happy to accommodate you.
Investment
"During the last 15-20 years, fancy colored diamonds  have shown  an accelerated increase  in valuation both per carat price and total overall price paid. This is due to increase in awareness by investors of the rarity of such a natural resource, and its superiority  in wealth concentration."
Thus, an individual looking to invest in a fancy colored diamond could choose to:
1. Invest in shares of the major mining companies
2. Buy individual fancy colored diamonds
3. Invest in a diamond fund
For more information on investing in fancy colored diamonds, please see Leibish&Co's Diamond Investment E-book.
Collection
Fancy color diamond collectors and enthusiasts are motivated by rarity and value. Much like investors, collectors like to stay abreast of recent finds and current auctions. If you are interested in starting your personal fancy colored diamond collection, it is best to work with a fancy color diamond expert to explore your options for best value for money. For more information, please visit Leibish's contact page.
Personal Jewelry
If you love the idea of gifting someone or yourself a fancy colored diamond and want to explore designing your own unique piece, then Leibish can certainly help you with that. Their design-your-own page allows anyone to set any diamond with the most popular jewelry settings with the ability to make personal tweaks and changes.
If you wanted to go completely rogue and design from scratch, then their team can work with you in creating a CAD design for pre-approval and final creation. There is no limit to what you can create with all the colors of the rainbow!
Gifts
Leibish also has beautiful jewelry collections available for any sentiment or mood. My favorites are Touche de Couleur, Emerald, and of course the avant garde and attention getting Extraordinary Collection!
Shipping, Returns, Payment, Etc.
Leibish & Co. has been in business for more than 30 years and prides themselves on their tight knit family values that extends to their loyal customers. Here are some terms of service that Leibish stands by:
Free international shipping! (Fed Ex or MalcaAmit)
Guarantee that all stones are free of any treatment (heated or radiated in any way)
1.5% discount if pay via wire transfer
Layaway plans are available
30-day money-back guarantee
Credit cards, bank wire, or paypal are accepted for payment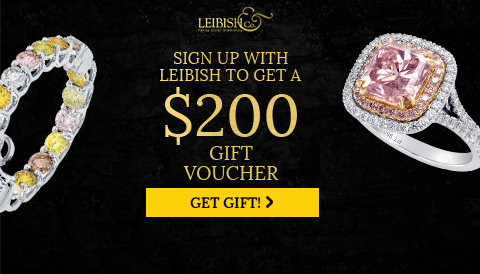 Why Fancy Colored Diamonds?
Fancy colored diamonds are in many ways more precious and unique than any other gem. They are certainly extremely rare; only 1/10,000 diamond carats mined will result in a fancy colored diamond. Add to this the color intensity, carat weight, and clarity and you'll see why some of the investment diamonds found on Leibish.com are so highly valued.
In the end, whether you prefer color and it's many hues and shades or the crisp white translucency of colorless diamonds, the fact remains that diamonds are among Mother Earth's finest creations. If you are in the market for something colorful in your jewelry collection, don't miss Leibish & Co. for their stunning fancy color diamond options.
Hey.You Want Ideal Cut Diamonds?
You've got it.
Join ODBA's Diamond Deal Friday and get handpicked diamonds every week from me to you.
No consultation required. Subscribe now!