Q:
Hi Liz,
I've read some of your articles on buying diamonds online and found it them to be very helpful!
Just to give you a little background, so far my search has been:
Shape: Cushion cut diamond (Modern)
Color: H or better
Clarity: VS2 or better
Size: 1.4 ct +
Fluorescence: None
Polish & Symmetry: Very good or better
I just want to clarify that I'm a first time novice buyer and the only information that I'm providing here is information that I've personally gathered online, so I'm completely 100% open to any suggestions/feedback/insight that you have.
Please let me know when you get a chance, and thanks again!
Isaac
A:
Hi Isaac,
Thanks for contacting me; I'm glad that ODBA has been of assistance to you in your diamond search.
As you probably already know, cushions are notoriously difficult to buy because there are so many variations in facet patterning and length/width ratios.
I've done a search and can recommend this beautiful 2.03ct H VS2 for $14,040.00: https://enchanteddiamonds.com/diamonds/view/C203-QPNX9R
This cushion is a modified brilliant with length/width ratio of 1.01 (square). It's a gorgeous example of an ideal cut cushion with plenty of direct light reflection (red in ASET image) with just enough contrast to make the white really pop. As a VS2 this cushion is eye-clean with faint fluorescence. Dimensions of this one is 7.37×7.27mm, and it was graded by GIA just a few days ago. It's a gorgeous stone and well under your budget.
Another option is this 2.01ct F VS2 for $19,950.00: https://enchanteddiamonds.com/diamonds/view/C201-TD5A1E
This cushion's dimensions are 7.9×7.17mm so a little more rectangle in shape. It has a higher color grade and is also eye-clean with no fluorescence.
There is also this 1.51ct G IF for $17,688 on Blue Nile: http://www.bluenile.com/diamond-details/LD05261079
This is one of Blue Nile's Hearts and Arrow modified brilliant cushion cut diamonds. You can click on the GCAL report for the actual magnified picture of the diamond.
So, hopefully this has given you some food for thought. Let me know what questions you have.
Kind Regards,
Liz
Q:
Hi Liz,
I love your suggestion for this one: https://enchanteddiamonds.com/diamonds/view/C203-QPNX9R
I think if you highly approve of the way it's cut, I'm happy with the color, clarity, and other areas and obviously I love the price point for the size of the diamond!
Would you mind providing a couple suggestions of settings that it would go well with it? I'm leaning towards platinum, pave or solitaire settings. What do you think about these ones here to go with the cushion diamond?
https://enchanteddiamonds.com/rings/view/PV10-PD-C
https://enchanteddiamonds.com/rings/view/PT1-PD-C
Hope this gets through to you and I'm looking forward to hearing back.
Regards,
Isaac
A:
Hi Isaac,
Yes, the ED cushion is definitely a winner in terms of overall light performance. The ASET image is predominantly red across the entire crown which is excellent. There is a very tiny grayish crystal under the table facet but you can barely see this in the magnified image. As a VS2 it will be eye-clean and provides an excellent value for money.
I definitely prefer the pave petite scallop: https://enchanteddiamonds.com/rings/view/PT1-PD-C
The popular look right now is claw prongs and pave diamonds set delicately on a very thin band. This way it emphasizes the center stone best. I would do platinum rather than palladium (lucky for you prices on platinum are much cheaper now anyway).
Let me know if you have any more questions. I hope this helps!
Liz
Q:
Hi Liz,
The diamond ring looks amazing and I think she'll love it. I've attached a couple pictures, let me know what you think!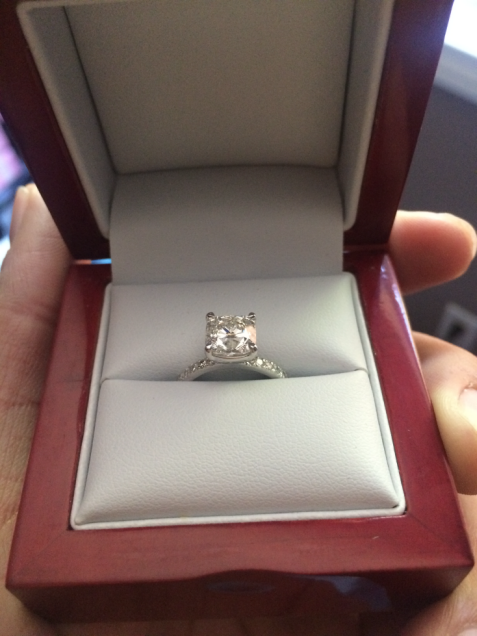 Regards,
Isaac
A:
Wow – that ring looks amazing!!! It really turned out great, thanks for sharing!
Kind Regards,
Liz
Hey.You Want Ideal Cut Diamonds?
You've got it.
Join ODBA's Diamond Deal Friday and get handpicked diamonds every week from me to you.
No consultation required. Subscribe now!