One of the most popular questions I get asked here at ODBA is 'how to get the most bang for my buck' in a diamond engagement ring. Here are my top 10 tips and tricks to keep in mind if you want to get a bigger, better and more beautiful diamond engagement ring…
1. Save Significant Cash With A Fancy Shaped Diamond
What's a fancy shaped diamond? It's a diamond shape that is anything other than the round brilliant. Most people don't realize that you can save significant cash if you were to go with an ideal cut fancy shaped diamond. For example, the average 1.00ct H color/VS2 ideal cut round brilliant will set you back about $6,000. Compare this to the same 1.00ct H color/VS2 ideal cut diamond shaped as a :
Marquise – $4,500
Heart – $4,750
Emerald – $4,900
Pear – $5,100
Oval – $5,350
Asscher – $5,600
This is an easy way to shave extra cash on your engagement ring and I highly encourage taking a look at the more unique looking fancy shaped diamonds out there. If you need inspiration, remember that many celebrities tend to choose fancy shaped diamonds for their e-rings including Lady Gaga's heart shaped diamond and Julianne Hough's oval engagement ring. Choosing a non-round diamond for your engagement ring sets you apart from everyone else as well as saving cash, but there 's another good reason to choose a fancy shaped diamond for your center-stone…
2. Choose A Marquise, Oval, or Pear For A Visually Bigger Diamond
Carat weight is just the 'weight' of a diamond and is not an accurate indicator of the actual face-up 'size' of a diamond. Visually speaking, a fancy shaped marquise, oval, or pear shaped diamond will look BIGGER on your finger when compared to the more traditional round brilliant and this is simply due to how our eyes perceive these shapes. For fancy shaped diamonds, we have to pay special attention to the length/width ratio in order to maximize the larger looking size. What we are looking for is a good balance with the more elongated shape in order for it to appear larger than it is. Here are my recommended length/width ratio guidelines for marquise, oval and pear shaped diamonds:
Marquise: 1.75 – 2.25 
Oval: 1.33 – 1.60
Pear: 1.33 – 1.75 
Take a look at what a 1.00ct marquise looks like vs. a 1.00ct round brilliant. The marquise with it's elongated slender shape appears larger!
If you have played around with ODBA's Diamond Genie, you'll find recommended length/width ratios for all fancy shaped diamonds and this is automatically filtered for you when you begin your search. And, speaking of the Diamond Genie, when it comes time to choose your metal setting how many of you prefer rose gold? If you are a rose gold lover then this next tip is for you…
3. Warmer Colors = Better Matching and Lower Prices
Rose gold is a gorgeous and romantic metal that looks beautiful on all skin tones. It's pink hue is perfect for engagement rings and many women love the super feminine look. If you are thinking of getting a rose gold engagement ring then you are lucky because you can benefit from investing in a lower color grade ideal cut diamond and still get all the gorgeous bling without the spending the extra cash. How can that be?
All white diamonds are crystals and act as prisms when they reflect light back to your eye. We are all familiar with the 'fire' of rainbow colors that sparkle when you move your diamond in light. In a similar way, diamonds tend to 'absorb' their surrounding colors and reflect those back to you and if  you set a colorless diamond (D, E, or F) in a rose gold or yellow gold setting, the diamond will absorb some of that surrounding metal color and appear less translucent. Since your super expensive colorless diamond will appear more warm when set in a rose gold setting anyway, it makes sense to invest in a lower color but still ideal cut quality to show off the bling and sparkle. The result is a gorgeously matched diamond that appears face-up brilliantly white with gorgeous warm tones to compliment your rose color metal setting. Not only does it look beautiful – but it also saves you thousands of dollars that you can use to get a larger carat weight center stone.
For example, a recent ODBA reader was initially looking for an oval shaped diamond to be set in a rose gold halo setting. His available budget was $8K for the diamond but was looking at higher color grades which resulted in a 1.50ct oval. I suggested he take a look at a 'J' color to compliment his already warm metal color and found a gorgeous 1.70ct oval for less than $8K. Take a look at the results below! Now that's smart shopping!
Saving cash with lower color grades is nothing new, but have you ever considered fancy colored diamonds as a non-traditional diamond engagement ring option? Most people think fancy colored diamonds are much too expensive – but that is only for the ultra rare colors. Which leads me to my next tip…
4. Fancy Light and Dark Brownish Colored Diamonds Look Pink!!! Save Major $$$
Did you know that less saturated fancy colored diamonds are often sold at very economical prices? For example, natural fancy colored diamonds that fall under the 'Brown' color category are some of the most beautiful diamonds available! Along this brown color spectrum are beautiful blush pinks, rose, salmon, and tangerine colored diamonds all at very low prices for their corresponding carat weight.
If you are interested in gifting your loved one with a beautiful and rare pink-toned fancy colored diamond be sure to check out Leibish.com and their selection of fancy colored light pinkish brown, light brown, fancy orangy brown, fancy brown and fancy dark brown colors. You'd be amazed at how gorgeous these natural colors are and how well they are priced!
From the left: 1.01ct Light Pinkish Brown $4,650.00, 2.66ct Light Brown $12,325.00, .78ct Fancy Orange Brown $2,450.00, 1.32ct Fancy Brown $6,300.00 and 1.90ct Fancy Dark Brown 5,800.00
Are you beginning to see how large and vast the world of diamonds is? It's amazing that so many people stick with the white round brilliant when there are so many beautiful shapes and colors to choose from! So far we've focused on the different advantages to shape and color grades. But what about clarity grades?
5. Eye-Clean Diamonds Save You Cash
Did you know that diamond clarity is the easiest way to save money when buying a diamond? Higher clarity grade diamonds (Flawless, Internally Flawless, VVS1/VVS2, and VS1) look exactly the same as a lower clarity grade diamonds (VS2, SI1/SI2, and some I1's) when viewed without magnification. Here's a handy guide for you to remember:
Always Eye-Clean – Flawless, Internally Flawless, VVS1, VVS2 and VS1
Sometimes Eye-Clean – VS2, SI1, and SI2
Few Eye-Clean – I1
So what exactly is an eye-clean diamond? 'Eye-clean' is an industry term used to describe a diamond that has no visible inclusions to the unaided eye (no magnification). As all diamonds are graded with at least 10x's magnification, a diamond with no visible inclusions is a perfect way to save cash while not compromising on visual appeal. Here are some helpful tips to remember when looking for an eye-clean diamond:
The Table Facet is the largest facet and the easiest to see through so try and pick a diamond that does not have inclusions directly under the table
Twinning Wisps are often found in SI1 diamonds and are a great way to save cash as they are almost always impossible to see without magnification (for examples of gorgeous eye-clean SI1 diamonds see this 1.03ct H SI1 from EnchantedDiamonds.com or this 1.55ct H SI1 from Ritani.com)
Crystals are the most prevalent grade making inclusion, but not all crystals are created equal. For example, a white/translucent or gray crystal is preferred over a dark/black crystal inclusion
Small Scattered Inclusions are generally better than more concentrated inclusions. An example here would be multiple scattered white crystal inclusions vs. one concentrated dark crystal inclusion (both scenarios could potentially be an SI1 diamond)
I1 Clarity grade diamonds are rarely eye-clean but some are 'prongable'. This is another industry term used to describe a diamond that has a visible inclusion that can easily be covered up by a jewelry prong. Be sure to pay special attention to I1 or lower clarity grades as these can be more vulnerable to damage through wear and tear.
Buying an eye-clean diamond is a great way to maximize carat weight and save extra cash. If you are interested in seeing how I go about searching for eye-clean diamonds on ODBA, check out this video:
6. Be Unique Go Antique!
Did you know that you can get an antique style diamond that is cut to today's modern-day cutting techniques? Many boutique diamond cutters are offering the best of both worlds; old-world style diamonds with ideal cut proportions resulting is super brilliant and sparkly gems that are reminiscent of the turn of the century style, only better! If you are interested in a unique diamond with antique charm, head on over to VictorCanera.com and check out his Canera Antique Cushion and Canera European Round diamonds and see just how gorgeous these non-conventional diamonds can be!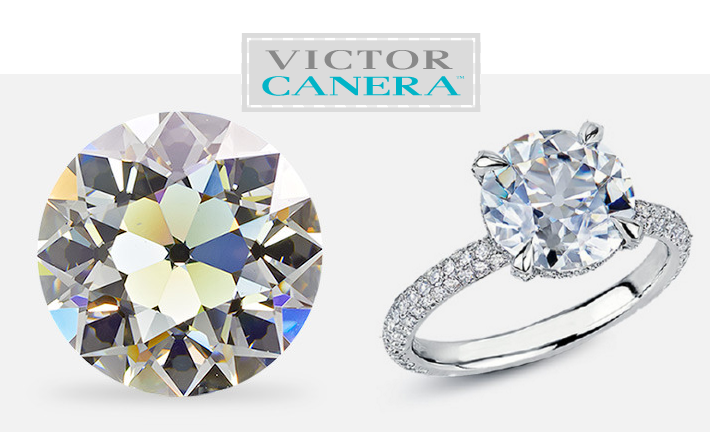 7. Solitaire Settings Are Always The Safest and Most Economical Choice
When it comes to choosing an engagement ring setting, the classic solitaire is always a smart choice. Not only is this setting the most economical (you can get an 18k gold setting for as low as $400 or a very close to the original Tiffany-style 6 prong setting for just $595) but the option to have your chosen diamond as the sole centerpiece of your ring is something that many brides prefer. Solitaire engagement rings allow you to put all your cash and attention to your only diamond. An added bonus with this style is that it is a classic and timeless look that will not date you and will always be in style. If you are looking for a great place to peruse many different solitaire 'looks' I highly recommend checking out Brian Gavin Diamonds. Here are a few of their classic and most popular choices: (From left: Classic Truth Solitaire, Classic Knife Edge Solitaire, and Classic Full Bezel Solitaire)



8. Custom-made Engagement Rings Are Not As Expensive As You Think
Another very popular choice among couples is to invest in a personalized engagement ring. I'm not talking about simply choosing a diamond and ring setting like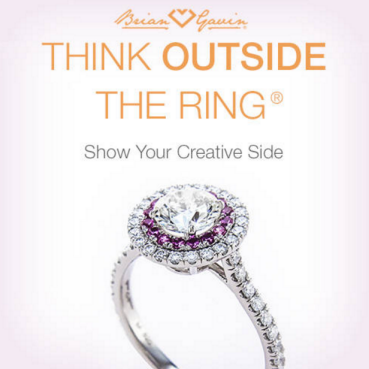 Blue Nile's Build Your Own Ring offering. Rather, I'm referring to completely customizing your ring from design concept, metal choice, gem-stones, diamonds, engraving, etc.
Contrary to popular belief, creating your own custom engagement ring is not as complicated or as pricey as you may imagine. It also doesn't take months to create. Typically a custom design process will go a little something like this:
Step 1: Decide on what 'flavor' ring you want to create. Will it be a solitaire ring with one diamond? Do you prefer sapphires or perhaps a fancy colored diamond? What sort of style do you prefer; classic, micro-pave, scroll work, antique or different and unique?
Step 2: Decide on your main center-stone diamond shape and choose what general carat weight, color and clarity you prefer. Estimate about 80% of your budget to go towards your diamond and the rest for your ring setting. Of course, if you prefer a setting with a lot of metal or many intricate set diamonds (micro-pave) then your labor and cost will go up. At this point, it is safe to ball-park your figures so you have something to go with.
Step 3: If you are a somewhat decent artist, go ahead and sketch your ideas on paper to assist your jewelry designer to understand what you are looking to achieve. If you are not artistic at all, then collect different images and pictures for an 'idea gallery' that will help your designer narrow down what sort of look and feel you prefer (see below for my version of how I indicated changes to my custom cushion BGD necklace…).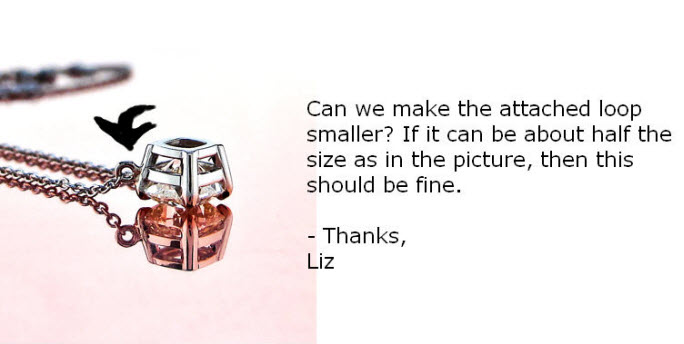 Step 4: At this stage most designers mock-up a quick drawing or convey to you what they are able to create verbally. This is usually accompanied by a quote for work so that both parties are aware of how much time and effort the project will take. Most engagement rings take about 6 weeks from idea concept to finished product so be sure to allot this amount of time so you aren't rushed for your designer to source your materials.
Step 5: Once an initial payment is secured as a deposit, designers will then carry out a more detailed CAD rendering of your ring. This unique 3-D model can be manipulated as many times as you want and is a vital check-point before your final 'go-ahead' approval of your design.
Step 6: Once you sign off on your CAD model design, you are now beholden to your design concept so be sure it is exactly as you want it to be. For an example of this process, be sure to read my personal custom created cushion diamond and platinum pendant with Brian Gavin Diamonds here.
Overall, creating a custom engagement ring is totally worth it if you have the time and energy to invest in a truly personalized gift for your future bride. Given that today's technology allows for easy and fast rendering of your ideas to create 3D models, the ability to custom create an engagement ring is now easier than ever. For more information on Brian Gavin's custom engagement ring process, please click here.
9. Hand Forged Jewelry – What The Heck Is This?
I'm sure you won't be surprised to hear that most jewelry found in your local mall or jewelry retail store is mass produced. When you look in the window at the retailer's wares, you need to remember that these jewelry items are created using wax molds and are not actually hand-made. There is a difference to the level of detail, intricacy and overall quality between a wax mold designed piece of jewelry and a hand forged item. Let's first understand what we mean by wax mold casting in relation to creating an engagement ring… (watch the below video)
Most jewelry (up to 95% or more) is actually created in the above way. Although this process isn't necessarily bad, it does lend to some compromises in jewelry creation with some of them being:
the casting process can introduce contaminants into the metal
the jewelry item must be further filed to eliminate the roughness that the casting process has introduced (tends to dull down the level of detail)
the jewelry item may have areas that are still part of the original 'rough' texture due to tools not being able to polish them completely
Wax casting is fine for most jewelry but is not recommended for very intricate and delicate designs that are best set in platinum. In this case, hand-forged jewelry is a much better and more discriminating option.
The almost lost art of 'hand-forged' jewelry design involves the actual manipulation of the melted metal parts to form a piece of jewelry. As there is no wax casting involved, there is no level of impurity and no need to 'clean off' the rough metal surface. There result is a purer more refined piece with a mirror-like finish on every single part of the piece; no areas with any imperfections. These are truly heirloom quality pieces of jewelry. By contrast, here's a video from Richard Talman on how he creates his hand-forged jewelry. You can see just how painstakingly precise this process is as well as understand why there is a premium to these truly handmade one-of-a-kind rings:
For hand-made forged engagement rings with high-performance ideal cut diamonds, I recommend VictorCanera.com.
10. Princess Cut Diamonds – The 2nd Most Popular Diamond Shape
Did you know that not all princess cut diamonds are cut the same? That's right – there is no standard facet pattern or cut for princess shaped diamonds! There are some princess diamonds with 2, 3 or 4 chevrons on their pavilion and these facets directly affect the way each princess cut diamond reflects light and is brilliant to your eye. It gets further complicated when consumers realize that GIA doesn't issue a cut grade for this shape but AGS does. So what is a consumer supposed to do?
One thing to remember is that you absolutely must see your princess diamond before committing to a purchase; either through magnified images or HD videos. Another helpful tip is to seek out a retailer that has consistency in their cutting standards. The only retailer that sells the same facet pattern for their princess cut diamonds is Brian Gavin. It is helpful to know that his Signature-cut princess diamonds have 32 facets on the pavilion, 20 facets on the crown, and 1 for the table. This specific facet configuration has been thoroughly researched by Brian Gavin, preferring the 3 chevron combination in the pavilion adding more virtual facets thus delivering the most optically balanced look for the princess diamond shape.
So, if you are looking for a princess cut diamond that will sparkle just like a round brilliant with tons of brilliance and fire – head on over to Brian Gavin Diamonds and be sure to check out their Signature Cut Princess Diamonds.
Now You're Ready! 
Hopefully these 10 insider tips toward buying a bigger, better, more beautiful diamond has been helpful for you. Buying a diamond and diamond jewelry is fun when you know what to look for and these tips are here to help you get the most out of your diamond purchase. If you have any questions or would like some personal diamond recommendations, please don't hesitate to contact me. Everyweek I search through diamonds for YOU based on your input into The Diamond Genie searches. If you'd like to be on the latest and greatest list of the best ideal cut diamonds personally recommended by me, please be sure to sign up for ODBA's weekly Diamond Deal Friday list.
I look forward to hearing from you. And as always,…
Happy Diamond Buying!
Hey.You Want Ideal Cut Diamonds?
You've got it.
Join ODBA's Diamond Deal Friday and get handpicked diamonds every week from me to you.
No consultation required. Subscribe now!