A week ago today my Grandmother died. I was with her in the hospital as she took her last breath. She lived a long 93 years but it was still a shock knowing you'll never see your loved one again.
My Grandmother was a Caucasus German and grew up in Russia in a small farming village called Canova (sp?). On her 18th birthday she was forced to flee as the Russian Government ordered deportation of all non-Russian people. Such was the start of a very traumatic youth, moving from one refugee camp in the Ukraine, to two in Poland, and finally ending up in Wurzberg, Germany. There she met my Grandfather, a handsome Latvian with chiseled cheekbones and piercing blue eyes. They dated for a year until word spread that they should get married. Knowing it was no one's business but their own, my Grandmother scoffed at the gossip but nevertheless brought the subject up to my Grandfather. On December 6th, 1947 they married in Wurzberg's civil court.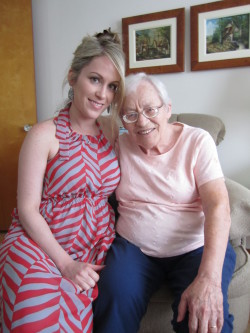 When people think of getting married today they usually start with an engagement ring, as much of the emphasis is on the diamond since it carries a significant cost. Yet, when my Grandmother died she had no diamond ring to pass down. Instead, her first wedding ring was made from a Latvian silver coin that was melted down to create two rings for her and my Grandfather. My Grandmother wore this silver ring for approximately five years. When they emigrated to Belgium, my Grandfather purchased an 18k yellow gold ring that she has since worn for 64 years until her death.
When my grandmother was alive she gave me her silver wedding ring and after she passed I was given her gold band. The depth of value that these two rings share is priceless. When I look at them I am filled with a lifetime's worth of emotion. From childhood innocence to teenage angst, from young adulthood and the uncertain times of war and famine, to middle age and starting a family, to her golden years of retirement and enjoying grandchildren, her garden, cooking, and cleaning.
Her wedding ring isn't just a symbol of her marriage. To my Grandmother, this ring comprised half of her most prized possessions. It is and was a symbol of her life. As the circle is the universal emblem for totality, unity, and wholeness, so her ring symbolized to me her determination to live a good life no matter the circumstance or condition.
My Grandmother Elsa, whom I'm named after, was the sweetest and most gentle soul I've ever been graced to know. Her simple gold band encapsulates her legacy of always choosing kindness over retaliation, love over anger, and forgiveness over hate. The value of her simple gold band dwarfs any diamond for me, as it is a constant reminder of a life that was lived by a woman that never gave up.
As I look back on my last moments with her I am happy knowing that she died peacefully with me by her side and when I wear her rings I will instantly be reminded of the depth of one life and the powerful legacy she will leave behind.
Thank you Grandma, for showing me the power and value of love.
Hey.You Want Ideal Cut Diamonds?
You've got it.
Join ODBA's Diamond Deal Friday and get handpicked diamonds every week from me to you.
No consultation required. Subscribe now!