Q:
Hi Liz,
My soon to be fiance and I are looking for the the best cut diamond you can find. We'd like the following:
round
~1.5 carat
D-G
VS1 or better
super sparkly
Our budget is around $13,000.00.
Thanks,
Eric
A:
Hello Eric,
I'm happy to help you find the best cut diamond for your budget. 😉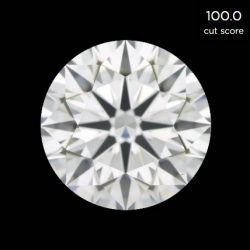 First, it will be difficult to find a 1.50ct that has G+ color and VS1 or better clarity for your stated budget. You will likely need to compromise on one of these characteristics. However, I did do a search for you and can recommend the following:
1.56ct E VS1 for $14,170.00: https://enchanteddiamonds.com/diamonds/view/R156-084720981
This is a beautifully cut diamond that fits your criteria with the exception of being slightly over budget. This diamond does have medium blue fluorescence which will not be noticeable to you unless you are in certain UV light conditions. The clarity grade is absolutely eye-clean and of course color grade a rare colorless 'E'. Overall, a very beautiful diamond.
Another gorgeous option is this 1.70ct H VS2 for $12,820.00: https://enchanteddiamonds.com/diamonds/view/R170-6189Z0170
This diamond is ideal cut, shows well formed, symmetrical dark arrow contrast and does not have any blue fluorescence. The VS2 clarity is perfectly eye-clean, with grade making inclusion being a small feather to the side of the table facet. You will not see it without a loupe, and even then you will have difficulty finding it.
As your budget is $13K, I would recommend the 1.70ct. I feel you will be very happy with this diamond as you are getting a larger carat weight while not compromising on budget. As this diamond is so well cut, the 'H' will face up bright white and sparkle beautifully and of course there is no need to pay a premium of a VS1 clarity if you can find a lower clarity grade that is perfectly eye-clean.
Please let me know if you have any questions. I look forward to hearing from you!
All the best,
Liz
Q:
Liz,
Thank you for forwarding the 2 diamond specs.
1. Is the ASET image available for the 1.56ct?
2. I have found that not all H/I "near colorless" have the same "lack" of color. Is there any way to tell without seeing them in person?
3. What is the return policy for Enchanted Diamonds?
4. Irrespective of cost, which diamond would you choose? I tend to favor minimal color and max sparkle.
Thanks for your assistance!
Eric
A:
Hi Eric,
You're welcome.
I do not see an ASET available for the 1.56ct diamond. You may want to ask Enchanted Diamonds to see if they can get this for you.
If you are extremely color sensitive, then I recommend sticking with G or higher color. H is where most people start to see some warmth in a stone, though it isn't by any means yellow. The round shape offers the greatest brilliance and therefore an ideal cut diamond will face up bright white and definitely sparkle. Color saturation is best seen from the pavilion or 'side view' of the diamond. Thus, many people are very happy with J or even K colored diamonds when set in yellow or rose gold as the color is muted in these warmer metals. However, as I've said, if you are color sensitive, then sticking with 'G' or higher will make you feel more comfortable.
I think Enchanted Diamonds return policy is 30 days, but you'll have to confirm with them.
The 1.56ct E VS1 is definitely the best cut diamond for your budget! Both diamonds are really beautiful, but getting an 'E' with 'VS1' clarity is of course something very special. 😉
I hope this helps!
Please keep in touch and let me know if you have any further questions!
Best,
Liz
Q:
Hi Liz,
It certainly is the best cut diamond! I ordered and am waiting to receive the 1.56c E VS1. 🙂 they were not able to obtain the ASET image, so am hoping that it will have the sparkle that I am looking for! Will let you know.
Thanks,
Eric
Hey.You Want Ideal Cut Diamonds?
You've got it.
Join ODBA's Diamond Deal Friday and get handpicked diamonds every week from me to you.
No consultation required. Subscribe now!