Q:
Hello Liz,
I am so glad I found your site! My head is really spinning with all the different numbers and various aspects to consider. I'm looking to spend about $15,000-$20,000 on a round diamond. I would prefer Blue Nile diamonds, but I'm open to others.
I'm really looking for something that sparkles (the best cut I can find) and is at least 1.75 carats (would prefer above 2). I'm really struggling with color and clarity.
If I went as low as a J, I could really get a bigger diamond. Is that worth it? Or should I stick with a smaller diamond with a better color? Beyond that, I obviously want an eye-clean diamond.
Help! Thank you so much!
John
A:
Hello John!
Thanks for letting me know your diamond spec requirements. I like Blue Nile, but they are lacking in their search function which is a huge problem when it comes to purchasing a diamond. They don't have any actual magnified pictures of the diamonds with the exception of some of their 'Signature' diamonds. You'll find it much easier to search through other online vendors that have actual magnified pictures and HD vidoes of their diamond inventory.
A J color diamond is near colorless and will appear white. The only time you'll ever see the slight warmth is from the pavilion (side of diamond). Most people cannot tell the difference, unless the diamond is held next to another colorless diamond (D, E, or F). Many women love to maximize size and don't mind getting a J colored diamond in order to do this. It really depends on your color sensitivity.
Have you checked out Brian Gavin Diamonds? They are a small boutique diamond retailer owned by a 5th generation diamond cutter; hence the name. I like their diamonds because they are very strict with what they accept as part of their 'Signature' diamond lines. All of these diamonds are AGS triple 0 ideal cut grade and will maximize the amount of light reflected from within it's facets. These truly are the top 1% of all diamonds in the world. You can read my Brian Gavin Review to learn more.
I searched his current inventory and found this gorgeous 1.77ct J VS1 for $14,258.00 that I think would work well for you. This diamond offers you the most bang for your buck, while not compromising on cut quality in anyway. It is a near-colorless stone that is perfectly eye-clean. What do you think?
Kind Regards,
Liz
What About An EGL Lab Report?
Q:
Hello Liz,
Thanks for getting back to me. At this point, I'm stuck.
My local jeweler brought in a 2.02 carat F SI1 (eye-clean..I've seen it in person) that he says is hearts and arrows. Now, the lab used was EGL. That worries me. It does look nice in person but I've never seen a super ideal cut before. He only wants about $15,500 for it.
Obviously, I can't come close to that online. I'm thinking it's so cheap because of the EGL grading? Or? It just seems too good to be true.
I am really after a super ideal cut with lots of sparkle. Color matters somewhat. Clarity doesn't matter as long as it is eye clean.
Thoughts? Help!!!
Thank you so much!
John
A:
Hey John,
If what you are after is a super ideal cut with lots of sparkle then the Brian Gavin diamond I recommended is exactly what you are looking for.
Unfortunately, EGL is a very poor lab known for manipulating their reports in order for diamond dealers to sell them for a higher profit. EGL's International Lab was forced to close down at the end of 2014 due to RapNet's decision to no longer include EGL reports in their diamond trading platform. Although other labs are independent from the Israel Lab that shut down, there is still a lot of controversy and many people choose to stick with GIA or AGS as their preferred lab.
The diamond you mention above may seem like a good deal but here is a lot of information that is missing and or red flags. Here are a few thoughts to consider:
When was the diamond graded?
Which EGL lab graded this diamond?
What is the grade making inclusion for it to be deemed a SI1?
How did the jeweler confirm to you that this diamond is a hearts and arrows precision cut diamond? (Hearts and Arrows notation on a lab report DOES NOT confirm a super ideal diamond!)
Have you compared an 'F' color diamond with a GIA report to your 'F' color EGL diamond? You may be surprised that you see a distinct color difference.
All in all, a 2.02ct F SI1 for $15,500.00 sounds too good to be true. Unfortunately, diamonds do not go on sale – ever. I would be very wary of where you are spending your hard earned cash. Keep in mind that when consumers are in the process of evaluating diamonds, transparency and honesty in selling is the top priority. Vendors like Brian Gavin have built a business on ethical diamond selling. That is why they are very picky about their diamond grading reports, acceptable cut proportions, actual magnified images, etc. They would never sell an EGL graded diamond.
Best Value For Money – Cape Diamonds!!!
You mentioned that color and clarity are lesser priorities to you than cut and carat weight. Fortunately for you, Brian Gavin has a unique 'Signature' line of super ideal hearts and arrow diamonds that fit your exact requirements. Brian's Cape Diamond Collection offers warmer colored diamonds that still face up white and sparkle beautifully. These diamonds represent the best overall value for money. They are all super-ideal hearts and arrows precision cut diamonds offered at a substantial discount. Be sure to read my article on Cape Diamonds to learn more about why these are such gorgeous options for an engagement ring.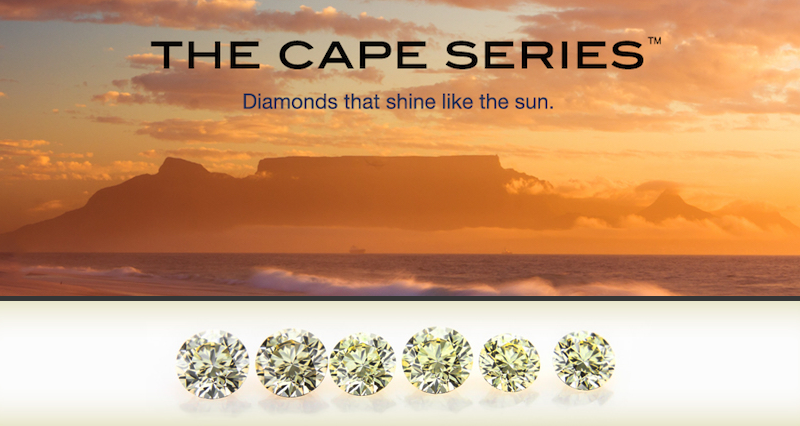 As an example, here's a huge 2.25ct M VS2 for $13,579.00. The size difference between a 1.77ct and a 2.25ct is substantial, yet the price remains relatively the same. Both diamonds are super ideal hearts and arrows and both are eye-clean. The only difference between these two is the color grade.
This 2.25ct "M" colored diamond is cut with superior cut proportions and will face up bright white and offer tons of light reflection. This diamond is unique and quite rare in today's market. Only Brian is selling these lower color Cape Diamonds with his perfect super ideal cut. He understands that consumers want to get the best bang for their buck! Plus, you get the coveted 2.25ct diamond for under $20k!!!!
Best,
Liz
Q:
Hi Liz,
This is so interesting! I've never heard of Cape colored diamonds and am definitely intrigued! I'll have to see if my girlfriend would be interested in something like this – but you pose a very good argument. It definitely does offer an outstanding value for money. If I have any further questions I'll definitely get in touch. You've been great – thank you so much!
Best,
John
Hey.You Want Ideal Cut Diamonds?
You've got it.
Join ODBA's Diamond Deal Friday and get handpicked diamonds every week from me to you.
No consultation required. Subscribe now!