Q:
Hi Liz,
Looking for some help in picking a loose diamond/engagement ring. I'm someone who is always reviewing products before I make a purchase, and the number of options is daunting.
I think I've narrowed it down to a round 1 carat fancy yellow diamond, in a halo setting. I read that a yellow gold setting will help bring out the yellow in the diamond. Any thoughts on this would be terrific. I still want the diamond to be eye clean and achieve as much brilliance as possible.
Are there any specifics I should be aware of when browsing fancy yellow diamond engagement rings? How "fancy" does the color need to be?
In short, would love your advise on a few options for a round yellow diamond in a halo setting, that are eye clean and have a strong brilliance.
Thanks Liz!
Alan
A:
Hi Alan,
I'm glad to hear that you've narrowed down your choice. It makes things easier when you are a bit more firm on what you are seeking.
Fancy colored diamonds are valued on color saturation vs. cut. Therefore, a deeper color saturated diamond is preferred and is also the rarest. With yellow fancy diamonds, the color that would be the most rare and therefore the most costly would be fancy vivid yellow or fancy deep yellow. However, popular colors include Fancy yellow and fancy intense due to price considerations.
A great chart to refer to can be found on Leibish's website here: http://www.leibish.com/about-fancy-yellow-diamonds-article-347
As far as diamond shape goes, the round brilliant is the most popular for white/colorless diamonds because the geometry of the round cut allows for maximum light reflection = white light. This is preferred in a colorless diamond. However, when you are considering a fancy colored diamond, you want to do the opposite and 'retain' as much of the body color of the crystal, thus you cut the diamond in shapes that tend to keep as much body color as possible. The classic cushion cut is often found with fancies as the geometry of the shape retains color very well. I would suggest considering a cushion shape with halo to enhance your color options.
An excellent choice would be this 1.05ct fancy yellow cushion set in a halo pave setting with yellow gold claw prongs. The price is $8,800 but there is a sale so could probably get for under $8K: http://www.leibish.com/rings-jewelry/fancy-yellow-cushion-diamond-halo-ring-25422
If you are looking for the best in color, then this fancy vivid yellow set in a double halo is an absolute stunner for under $5K: http://www.leibish.com/rings-jewelry/fancy-vivid-yellow-double-halo-ring-16885 Of course, the center stone is .26ct with the best color saturation you can get in yellow, so the double halo helps to give the visual size for an engagement ring.
Let me know what you think and if you have any questions.
Kind Regards,
Liz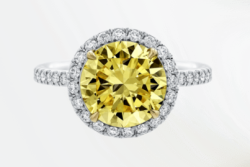 Q:
Hi Liz,
Thought I would send over a picture that encompasses what I'm looking for. While I certainly can't afford the size of the stone pictured this is the overall look I like best. Hope this helps and thanks again!
Thanks,
Alan
A:
Hi Alan,
That's a very nice setting.
BGD has pre-set fancy yellow diamonds set in pave halo settings that are ready to go. Here is one that fits what you are looking for: http://www.briangavindiamonds.com/1.14-round-fancy-yellow-diamond-engagement-ring-6486w18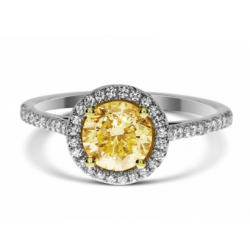 It's a 18K WG ring with a 1.14ct VVS1 Fancy Light to Fancy Yellow Round cut diamond and approx. 0.24 GH SI diamond melee. What do you think?
This is probably the best way to go about getting what you are looking for at the quality and budget that you had in mind.
Kind Regards,
Liz
Q:
Hi Liz,
Thanks for the update! I absolutely love the BGD you sent. If you think is my best option I think I'm ready to take the plunge!
What does the .24 GH SI relate to?
Thanks again Liz!
Best,
Alan
A:
Hey Alan,
You're welcome. I love that ring too and definitely think it is the best option for you.
The .24ct G/H SI1 is with regard to the melee (small) diamonds that make up the halo and surrounding band. Melee is another word for small diamonds that weigh .18ct or less.
Go for it!!! She'll love it – and let me know what you think when you get it! 😉
Best,
Liz
Hey.You Want Ideal Cut Diamonds?
You've got it.
Join ODBA's Diamond Deal Friday and get handpicked diamonds every week from me to you.
No consultation required. Subscribe now!