Hearts On Fire
(1 / 5)

This Hearts on Fire review details this diamond brand's history, diamond quality, and value for money. Does it makes sense to invest in a Hearts on Fire Diamond? Well, let's find out…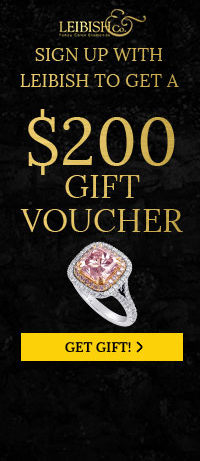 It all began when Glenn and Susan Rothman founded "Hearts on Fire" diamonds in 1996. Glenn had always been an entrepreneur at heart, and when he realized that the diamond industry could also be leveraged into a lucrative business he set his sights on learning the diamond trade.
It was in Antwerp, Belgium in 1996 that Glenn and his wife met with renowned Belgian diamond cutter, Van Blerk. At the time Van was working on a new kind of diamond cut for the Japanese market. Eager to show the American's his new cut creation, Van Blerk set a diamond in a proportion scope and showed the Rothman's the now infamous eight arrows and hearts. It was at this moment that an idea was born within Glenn and they soon set about patenting the 'Hearts on Fire' cut. In fact, the ultimate secret to Hearts on Fire's success can be whittled down to one key thing: Brand Awareness.
Rothman was an entrepreneur at heart and leveraged his early business knowledge to his advantage. He knew that if he wanted to get anywhere within the diamond industry, he needed to offer something different to the average diamond consumer. Acting on the fact that most people are timid and a little insecure when it comes to buying diamonds, he offered each of his Hearts on Fire diamonds with a laser inscribed brand name and serial number on each diamond's girdle. Additionally, each stone would be accompanied by a certificate from the American Gem Society (AGS) certifying the highest cut grade. In this way, all Hearts on Fire diamonds come with the coveted ideal zero cut grade, further ensuring security and confidence in the average diamond buyer's mind.
Rothman's business sense paid off. Since 1997 the Hearts on Fire brand continues to grow and innovate itself. Consumer's are so convinced that Hearts on Fire is the absolute best diamond that they are willing to pay as much as $12,000 or more per carat! But the question remains…
"The World's Most Perfectly Cut Diamond"?
Hearts on Fire diamonds are indeed very beautiful diamonds. However, so is William Goldberg's Ashoka diamond, Tiffany's Lucida diamond, and Lazare Kaplan's famous Lazare diamond. All of these diamonds are beautiful and all of these diamond's are obscenely overpriced.
But, thankfully times are changing and other diamond vendors have recognized the growing importance of quality in diamond purchases. Many are jumping on the Brand bandwagon too. For example, Brian Gavin's Super-Ideal Hearts and Arrow diamonds are priced far more economically than Hearts on Fire or Tiffany's Lucida.
However, anyway you look at it, the truth of the matter is that all of these diamonds are ideally cut and show the hearts and arrows visual effect when viewed with a proportion scope. The only difference is that each vender is now touting their own cut as their own BRAND.
The "Hearts On Fire" diamond brand has enjoyed many years of success dominating the US and European markets touting themselves as "The World's Most Perfectly Cut Diamond". Very recently HOF has launched their retail website where consumers can peruse their available diamond engagement rings and diamond jewelry online. Previous to this, customers could only purchase HOF diamond engagement rings and jewelry from authorized HOF dealers at brick and mortar stores. All online HOF orders are limited to the US market only with no international shipping available.
Where Are The Actual Magnified Diamond Pictures, Light Reflector Images, and Hearts & Arrows Images?
As you know 'Cut Is Queen' in the diamond world. Diamond experts and enthusiasts know that the cut is the single most important factor to making a diamond sparkle brilliantly. If you've read my article on hearts and arrows diamonds, then you'll know there is much to understand about this very rare cut. For one, the diamond must be cut to specific proportion sets, and offer maximum light return AND optical symmetry. These two conditions must be met in order for a diamond to be considered a true H&A diamond. The only real way to "prove" a diamond is a true H&A diamond is to show light reflector images like ASET or ideal-scope as well as optical symmetry images found through the traditional H&A viewer.
As consumers educate themselves, it becomes easier to analyze true Super-Ideal hearts and arrow diamonds. Online diamond retailers like Brian Gavin Diamonds are completely transparent about the cut quality of each of their stones, so why isn't Hearts on Fire?
1) They do not offer any ASET, ideal-scope, or hearts and arrows images in order for a customer to see how their diamonds perform. Why?
2) Hearts on Fire does not offer any diamond grading reports online. In fact, the only way that you can view your grading report is AFTER you made your purchase when the diamond engagement ring is finally shipped to you. Why?
3) Hearts on Fire diamonds come with an AGS Diamond Quality Document NOT an AGS Platinum Light Performance Diamond Quality Document. There is a big difference. The latter shows an ASET and Hearts and Arrows digital image of the actual diamond. Why wouldn't they offer the highest quality report for these hearts and arrow diamonds?
Hearts On Fire Pricing
The Hearts On Fire website has two different quality grades that consumers can pick their diamonds from; a) "Exceptional" diamonds (D, E, or F in color and VVS1 to VS2 clarity) or b) "Sensational" diamonds (G, H, or I in color and VVS1 to SI1 clarity).
The "Exceptional" and "Sensational" diamonds are offered at a SET PRICE online. In other words, customers choose their desired ring setting, and then choose their diamond carat weight. There is one set price based on the carat weight that customers choose, but there is no disclosure of what color/clarity the diamond will end up being and there is no diamond grading report to view before purchase. How can they offer one price for a diamond that can vary up to three different color and clarity grades?
Which Would You Rather Pay? $15,000 or $9,000?
Hearts On Fire 'Insignia' in Platinum vs. Brian Gavin's 'Signature' H&A in platinum 


It is a well known fact that Hearts On Fire diamonds are sold at a premium prices, sometimes as much as 60% more than other hearts and arrows diamonds! HOF website says, "…Simply put, a Hearts On Fire diamond is more valuable than any other diamond. A Hearts On Fire diamond sparkles more than any other diamond." How can they make this claim without any substantiating evidence? Are consumers just supposed to take their word for it?

Also, Hearts on Fire say that they are the only diamond brand in the entire world that can say they are, "The World's Most Perfectly Cut Diamond" but that is because that statement is a registered trademark for the brand, not because it is necessarily true. When a business organization registers a trademark, it serves as a form of property. In other words, Hearts On Fire owns that phrase and thus no one else can use these words or even similar words to describe their diamonds. If they do, they risk trademark infringement and possible litigation.

Final Thoughts

It is important for a consumer to know what they are investing in. A diamond with a hearts and arrows pattern is a result of diamond cut with superior optical symmetry and can be seen and proven only through a hearts and arrows scope. Hearts On Fire doesn't provide this level of transparency (no images no AGS reports) and instead asks the consumer to just trust that each and every one of their diamonds shows this level of cut precision. Additionally, their prices aren't in my opinion fair and they are charging extra for the perception of value created by their brand many years ago.

The bottom line is that Hearts On Fire has invested millions of dollars into their global marketing in order for them to maintain their registered trademark claim. The perceived value for these diamonds makes their higher than normal prices justified…to them. The question is, are these diamonds worth the extra 50-60% mark-up to you? 

Hey.You Want Ideal Cut Diamonds?

You've got it.

Join ODBA's Diamond Deal Friday and get handpicked diamonds every week from me to you.

No consultation required. Subscribe now!