Zoara

(5 / 5)
Zoara is a privately held jeweler based in Sioux Falls, South Dakota. Unlike other diamond retailers, Zoara's owners have a combined 50 years of experience in diamonds, jewelry, e-commerce and IT with extensive connections to the main global diamond centers of the world including New York, Chicago, Los Angeles, Israel, Hong Kong and India.
Zoara is an online diamond and jewelry retailer that also has an actual brick and mortar store located in Sioux Falls, South Dakota. Zoara has been selling diamonds and jewelry for more than 20 years, have a total of about 60-ish employees, and focus on providing top of the line web features (actual diamond images!), diamond videos, pricing (pretty much the lowest online!), quality products and hand-picked customer care and sales professionals.
To put it simply, Zoara is dedicated to providing the ultimate diamond and jewelry shopping experience to customers worldwide!
ODBA Q&A with Dan Lax, Zoara Sales and Customer Service Manager
Liz: Does Zoara own any in-house diamonds or are they all virtual?
Dan: We have a good sized in-house inventory, however the bulk of our stock is virtual and online. This model allows customers to access a much wider range of diamonds that they wouldn't be able to find elsewhere and thereby really give them the opportunity to find exactly what they are looking for at the lowest possible prices. However, as can rarely happen with virtual inventory, diamonds can be sold at the same time to several different companies. We do our best to keep our online inventory updated but we also require that our suppliers do the same. For the most part this system works flawlessly, however in the rare event of a diamond being sold simultaneously to somebody else it is our policy to offer the customer a free upgrade.
Liz: How often are your virtual diamonds updated on your website?
Dan: Our virtual inventory is updated approximately every hour.
Liz: Does Zoara visually inspect the diamonds/jewelry before sending to a customer or is the ring drop-shipped? Can you offer insight into how your business model works?
Dan: Zoara submits every diamond that comes through its doors to a rigorous inspection that includes testing, weight, measurements, inclusion mapping and a general performance test to detect proper light return, luster and tinges. If we find any issues such as the diamond not being eye-clean, hazy or milky, displaying undesirable tinges or any other negative feature, we will contact the customer immediately and ask how to proceed.
We do not, nor have we ever drop-shipped. Every diamond, gem and jewelry piece is examined and worked on by our dedicated team of goldsmiths and gemologists.
We do all of our jewelry production in house. On certain occasions castings may be done by several of our partners. We design the wax models and send them to be cast and when the piece has been cast our goldsmiths take the raw piece and stress test it to ensure that there were no impurities in the casting that could cause structural complications further down the road. Once the integrity has been established, we polish it, set it with stones and make all the necessary adjustments to make a stunning piece of jewelry. Rhodium, engravings, final polishing and a last examination are all done to ensure quality assurance.
Every order receives the personal attention of Zoara goldsmiths and gemologists who take each piece to heart. Since we do not contract our jewelry making out to 3rd parties, every piece has its quality guaranteed.
We pride ourselves on our unique customer service and personalized care that is given to each client and his or her order. We may not be as big as some of our competitors but we use this to our advantage since we work that much harder to maintain the highest level of customer care and satisfaction. – Dan Lax, Zoara Sales & Customer Service Manager
We are also able to be very flexible with special requests and custom orders that would likely be dismissed by a larger company. We have never turned an idea away and will work as hard as needed to make sure that the customers get what they are after.
Liz: What is your criteria for determining a hearts and arrows diamond (as specified in your search filter)? Are there specific proportion sets that you look for?
Dan: Our Hearts and Arrows criteria is determined by the cut, symmetry, crown/pavilion angles, depth/table proportions and diamond measurements (how round the diamond is). All of our Hearts and Arrows diamonds will have been previously inspected and verified as displaying the effect as well.
Liz: What is Zoara's criteria for determining an 'eye-clean' diamond (as specified in your search filter)?
Dan: There are diamonds that are obviously eye-clean, such as any stone with a clarity of VS1 and over. Below that, eye clean diamonds must have been previously inspected per industry standards, which is an unaided visual inspection from 6 inches away with the diamond face-up.
Our vendors are very transparent and accurate in their inspections since their reputation depend on it. In many cases the vendors are even stricter than most typical jewelers since they are usually the ones who cut the diamonds and already know what to look for. Therefore if they tell us that the diamond is eye clean we will trust their opinion. In any event the diamond will be inspected by us for a second opinion. We have yet to encounter a case where a vendor's inspection was inaccurate. We also can provide photos for nearly all of our diamonds, even those which don't have photos online which allows the customers to see for themselves.
Liz: Who are Zoara's biggest competitors?
Dan: Blue Nile and James Allen would probably be our biggest competitors.
Liz: What would you say makes Zoara different/better to Blue Nile, Tiffany's, James Allen?
Dan: Other than the information stated above, we have several features that Blue Nile doesn't have, such as real diamond photos. Unlike our competitors, we operate heavily in the field of custom jewelry, which is when customers come to us with an idea that we nurture and design together, culminating in a joint effort that results in a perfect reflection of the customers' desires. Many of our competitors simply have no interest in dealing with such customers since they are labor intensive yet we consider every order to be of the utmost importance
Our prices are also much lower than most of our competitors, and several customers have pointed this out to us as well. While Tiffany's has beautiful products, they are significantly more expensive compared to us, so we are a much better option for a customers looking for value rather than buying a brand name.
Why ODBA Recommends Zoara
After first coming to the online scene in 2008, Zoara.com have been enjoying great success and growth due to their excellent customer service, extremely low diamond prices and websites in 4 different languages (Zoara has website translations in Spanish, Chinese, French and German in addition to having US and UK websites).
As one of the fastest growing online diamond vendors, their prices are some of the lowest and they regularly compete with the more popular diamond websites including Blue Nile. What sets Zoara.com apart is their everyday discounts available for US military services, students, lawyers, and even medical staff (click here for Zoara's discounts) No other jeweler or diamond retailer offers this many different discounts to so many different people.
Zoara also offers a wide array of jewelry including pre-set engagement rings, diamond necklaces, pearl jewelry, stud earrings, and wedding bands.
Zoara's loose diamond search tool allows a visitor to easily peruse their list of thousands of diamonds by using helpful criteria such as: the ability to see real diamond photos and video as well as eye-clean, hearts and arrows, and clearance diamonds. Consumers can easily search through thousands of actual magnified images making it extremely easy to find a great quality stone for any budget.
Zoara has a large selection of diamonds with grading reports from GIA, AGS, IGI, HRD, and EGL. Diamond certification as you know, is absolutely critical when purchasing a diamond online. GIA or AGS diamond grading reports are the most reliable and consistent grading laboratories for diamonds in the US market. Relying on these certificates will ensure that you get a diamond that is graded accurately.
Zoara also has an in-house team of certified gemologists, certified gemologist appraisers and registered jewelers that are on hand to provide their professional opinions and critiques of all their available stones.
Zoara Pros:
– Some of the lowest priced loose diamonds on the internet!!!
– AGS/GIA graded diamonds
– Actual magnified diamond pictures and video including eye-clean, hearts and arrows and clearance
– Free shipping (see T's anc C's for international customers)
– 90 day return policy
– Lifetime free ring sizing
– Custom engagement ring and jewelry collaboration
– Conflict-free diamonds
– Website translations in Spanish (www.Zoara.es), French (www.zoara.fr), German (www.zoara.com.de), and Chinese (www.zoara.cn) as well as www.Zoara.co.uk
Would Love To See:
– CAD images of all rings could be updated to actual ring images
– Hearts and Arrows optical symmetry cut proportions could be tightened to show a finer selection of more precisely cut diamonds
How To Find Ideal Cut Diamonds At Zoara
A very easy way to find the top 5% of all cut diamonds at Zoara is to use ODBA's The Diamond Genie. All you need to know is what diamond shape, metal setting color, carat weight and budget you have and allow The Diamond Genie to search through thousands of available diamonds to fit only ideal cut diamond proportions. Once you get your diamond results, be sure to tick 'Zoara' in the Vendor drop down menu. For reference see below…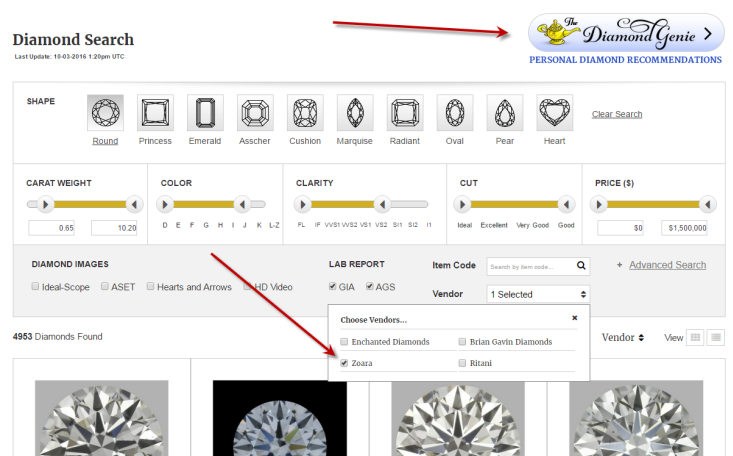 Final Thoughts
Zoara ticks all the boxes as they provide quality diamonds and jewelry craftsmanship along with some of the lowest priced diamonds online! As their customer service team is small with a family-like atmosphere, you are ensured quick and reliable service. If you have any questions or would like help/advice in finding your perfect diamond from Zoara, please be sure to contact me. I look forward to working with you!
Happy Diamond Buying!
Hey.You Want Ideal Cut Diamonds?
You've got it.
Join ODBA's Diamond Deal Friday and get handpicked diamonds every week from me to you.
No consultation required. Subscribe now!