Q:
Liz,
Looking to purchase a diamond ring for my longtime girlfriend. We recently saw one of those ubiquitous "Ever Us" ring ads (Kays, Jared, Zales, Forevermark)… and she mentioned "now that's a really nice setting".
And so, I thought that I'd like to purchase a couple of nice diamonds and have one of our local jewelers place them on a band similar to that "Ever Us" setting.
I'm in no rush i.e. I'm not wanting to purchase until end of March – early June. Moreover, just before we go on vacation. — Don't know if there is a "better" month to purchase or not.
The simple choice would be to contact those 3 different chain stores, tell them I'm looking at their 2ct (tw) Ever Us ring and express what I just told you… and over the next couple of months determine which would give me the better deal on it.
—- But, I think I might prefer having someone like yourself guide me… find me a couple of better diamonds (possibly 1ct. each?? dispensing with all those littler ones around the Ever Us band) and give me an idea of what I could expect to pay one of my local jewelers to place those 2 diamonds on/in a reasonably priced band/setting.
And soooooo… does that seem plausible/ doable?
Let me know.
Thanks,
Jerry
A:
Hi Jerry,
Stores like Kays, Jared's, and Zales typically have poor to average quality diamonds. They typically sell their e-rings already mounted with generic gem lab cards that describe the fully mounted ring; rather than having previously sent the specific diamond to the gem lab for a comprehensive grade report. In addition to the quality and basic information, these stores have extremely high mark-ups on their jewelry.
You'll get far more superior quality coupled with a lower price if you purchase through one of the vendors that I regularly work with.
If your total budget is $5K for the entire ring, then you are looking more at a .45/.50ct for each diamond. I would suggest purchasing the diamonds and ring setting from the same vendor as this is the easiest option. Give yourself 4-6 weeks to make and get the ring.
For example:
.54ct J VS2 for $1,444.00: http://www.briangavindiamonds.com/diamonds/diamond-details/0.543-j-vs2-round-diamond-ags-104084591028
.53ct J VS1 for $1,351.00: http://www.briangavindiamonds.com/diamonds/diamond-details/0.532-j-vs1-round-diamond-ags-c-104080725049
This will essentially leave you with $2,200 for the custom ring. Brian Gavin Diamonds regularly creates custom rings and you can learn more about it here: http://www.briangavindiamonds.com/engagement-rings/custom-engagement-rings/
This is just to get you started; to get you thinking of the quality and value of your diamonds and craftsmanship you want for your longtime gf.
There is no better time to purchase; but I always suggest when you find the diamonds that you are looking for at the size, color/clarity and budget then go for it. You do not want to wait to find two diamonds that would complement each other for your e-ring. Also, creating and approving your CAD design and then manufacturing the ring takes a few weeks – so this is something that you'll want to get started on fairly soon.
Let me know what you think and if you have any questions.
Kind Regards,
Liz
Q:
Hey Liz,
I now read all of your 'Diamond Education' articles and a couple of Brian Gavin's. I initially preferred the idea of a strong blue fluorescence i.e. unaware of it's contradictory interpretations, but even more so after viewing Brian Gavin's video specifically comparing an M colored blue diamond with much higher grades.
Having said that, I'm now focusing on a round, Ideal to Excellent Cut, a J or lower color, 1.4 or heavier carat… probably set it in a 6-prong 14 kt. yellow-gold solitaire setting. I'd like to spend around $6,000.
As I stated, I have no problem with any degree of blue fluorescence and don't mind some minor inclusions (SI1, SI2). — And I would imagine she'd be happier still with a heavier carat wt. over a higher color.
I'm going to ask several questions simultaneously:
#1. Your opinion on this 1.704ct P SI2 with strong blue fluorescence and this 1.63ct P SI2 with strong blue fluorescence
#2. Although I'm looking at lower color grade diamonds which exhibit some degree of yellowish tint (Brian's Cape Series), your recommendation of a yellow-gold (or rose-gold) setting would still be advised i.e. based on their 'strong blue' fluorescence? — Wouldn't the yellow setting at the same time highlight the stone's inherent "yellowishness"?
#3. As it appears both my girlfriend's and my preference would be for a Solitaire setting…which I think highlights the singular stone more than other settings (and assuming I were to purchase a simple 14 K yellow-gold or rose-gold setting) would you have a personal preference within his offerings (she currently wears an eternity ring which I gave her a couple of years ago… so I'm pretty sure this new ring would be worn alongside it)?
#5. (and finally) Although I RARELY succumb to these sort of things, I received an email from BGD offering a 1-day (today) 'discount' on jewelry/rings. Does that appear legitimate to you… and if so, would I not be able to cite that BGD offering for perhaps the same 'discount' tomorrow… or Wednesday?
— Moreover, I don't like to be rushed.
Okay, that's it.
Please give me your suggestions/answers asap as I'm more inclined to move forward sooner rather than later.
Thanks again,
Jerry
A:
Hi Jerry,
The 1.704ct P SI2 has large white crystal inclusions that will be fairly easy to see if you know that they are there. The 1.63ct P SI2 is actually pretty clean for a SI2 clarity grade. The grade making inclusion is a large feather that is not directly under the main table facet. When looking at the HD magnified video of the diamond you can barely make out the white inclusions. There are some dark crystal inclusions but again, these are not directly under the main table facet and do not affect the brilliance of the diamond. I'd say this is a great way to get a larger stone while still within your $8K budget.
With regard to metal setting, I'd set this diamond in a two tone ring so that the warmth of the yellow is muted from the yellow/rose gold and any white metal could help to enhance and reflect the white brilliance. Here are some examples:
Classic Knife Edge in 18K yellow gold with platinum prong head: http://www.briangavindiamonds.com/engagement-rings/solitaire/classic-style-knife-edge-18k-yellow-gold-5336y18
Classic Four Prong Basket in Cathedral setting: http://www.briangavindiamonds.com/engagement-rings/elegance-18k-yellow-gold-5415y18
Modern Crossed Setting (would look great next to a diamond eternity ring): http://www.briangavindiamonds.com/engagement-rings/solitaire/crossed-solitaire-18k-yellow-gold-5506y18
I'm also a big fan of BGD's 'Truth' head (the part of the ring that holds the diamond), as the side profile view looks like a heart: http://www.briangavindiamonds.com/engagement-rings/solitaire/melissa-18k-rose-gold-5366r18
At any rate, this diamond will appear white from the top/crown. It is only from the side profile angle that you will notice the warmth of the 'P' color and this is further muted with the strong blue fluorescence. With regard to the discount, it's absolutely legit. They run specials from time to time to move inventory, etc. I cannot say that they will honor a discount tomorrow or later this week – but if you call them and tell them what you are looking for they might be willing to work with you. 😉
I hope this helps.
I wonder what changed your mind in getting a solitaire diamond instead of the two diamond, "Ever Us" ring from Forevermark?
Kind Regards,
Liz
"It Would Have Been the Simple Choice After Watching Their Advertisements On TV – But I Didn't Want The Proverbial Run-Of-The-Mill Ring…"
Q:
Very much appreciated, Liz.
Final question:
With regard to the 4 settings you selected… each of the links you sent references a specific color i.e. Yellow gold or Rose gold. Are those specific links (e.g. Yellow gold for the Knife Cut… Rose gold for the Melissa) your preferences regarding which specific color best suits each setting? — Or are your color suggestions interchangeable i.e. either Yellow OR Rose?
I'll no doubt be purchasing tonight. Do I need to somehow reference you i.e. for you to obtain your credit?
Regarding the 'Ever Us' ring, I decided against it after reading your (and other site's) articles. Moreover, educating myself. Intuitively I recognized that Kay's and similar retailers would have vastly inferior stones. It would've been the simple choice after watching their advertisements on TV. I also didn't want my girlfriend to have the proverbial run-of-the-mill ring. Happily I found you through some sort of keyword search on Google 🙂 … And we all subsequently lived happily ever after.
A:
Hello Jerry,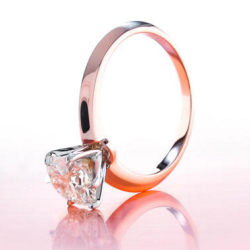 The links I sent can be interchangeable with yellow or rose gold; either or. My favorite is the knife edge 6 prong classic in Rose Gold. Rose Gold is especially growing in popularity and would look lovely next to a diamond eternity ring. The contrast would suit the 'P' color diamond very nicely. 😉 (see attached picture I grabbed from pinterest….)
Thank you for allowing ODBA to be your reference site! It is very much appreciated. You may click this link to your diamond when you are ready to purchase (as it has my code for tracking): http://www.briangavindiamonds.com/diamonds/diamond-details/1.636-p-si2-round-diamond-ags-cbl-104082557002?a_aid=diamondadvice
All the best!
Liz
Q:
OK… done, Liz. Just purchased our selected stone via the link you sent me. I set it in your selected 18K rose gold 6 prong knife setting.
Ciao for now,
Jerry
Hey.You Want Ideal Cut Diamonds?
You've got it.
Join ODBA's Diamond Deal Friday and get handpicked diamonds every week from me to you.
No consultation required. Subscribe now!