Q:
Hi Liz,
I am looking for a round diamond above 1.30ct with a budget of around $8K. I'm trying to get the most value out of my budget so I was looking at H/I colored diamonds. I also do not care about clarity as long as it does not affect the visual appearence and is eye-clean. I am looking for a diamond that has as much fire and sparkle as possible with close to a perfect cut. I am putting this in a platinum setting. Any suggestions you can provide would be greatly appreciated!
Thank you!
Mike
A:
Hi Mike,
I recommend either of these two: 1.28ct I VVS2 for $6,667.00 or 1.36ct I VVS2 for $7,384.00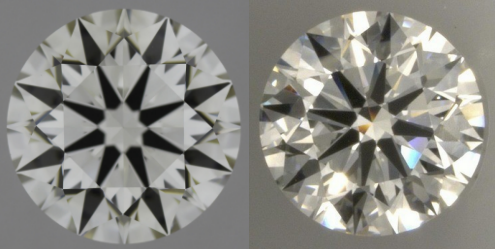 The 1.28ct I VVS2 is from Zoara and is a GIA triple Excellent diamond with AGS ideal cut proportions and no fluorescence. As you can clearly see from the image, it is stunning. The second diamond is a 1.36ct I VVS2 from Ritani and is slighly larger. This diamond is also a GIA triple Excellent but has faint fluorescence. Both are beautiful examples of ideal cut diamonds.
Kind Regards,
Liz
Q:
Thanks for getting back to me! Those are very nice and actually under my budget! Is there any way you can show me a couple more possibly a little bigger? Also I have a question regarding color. In your opinion what is the lowest color I can go where you can't really notice any yellow on a diamond around 1.3-1.5ct? It will be in a platinum setting. Thanks.
A:
Hi Mike,
People generally start to notice body color in a white diamond in the 'H' range. From the top (crown view looking down into the diamond) you will not notice any color because the white light reflection and brilliance is all you'll see in an ideal cut stone. However, if you look at the side/pavilion angle, then you would notice more color. I'd say 'J' is the lowest color you can set in a platinum setting while still being 'near-colorless'. If you are color sensitive then stick with 'H' or higher.
If you are looking for a larger diamond then the best I could find without compromising too much on cut is this 1.50ct I SI1 for $7,493.00. However, this diamond has a large crystal which is located off to the side under an upper girdle facet. This can easily be covered by a prong. There is also strong blue fluorescence on this diamond. I'd say if you are looking to get a 1.50ct diamond with 'I' or better color for under $8K then this is the best I could find. It's a great deal and I'd move fast on it.
Kind Regards,
Liz
Hey.You Want Ideal Cut Diamonds?
You've got it.
Join ODBA's Diamond Deal Friday and get handpicked diamonds every week from me to you.
No consultation required. Subscribe now!