Q:
Hello Liz, I found your site and must say thank you for the education. My fiancé and I went to our local Fred Meyer Jewelers and she fell in love with this cushion ring. I'm unsure if I should buy it because of the lack of AGS/GIA documentation. I was quoted $6999.00 + 7% tax. Do you have and recommendations for a 1ct cushion please?
http://m.fredmeyerjewelers.com/Products/1_ct_Forever_Ideal_Diamond_Solitaire_Ring–1889021.aspx
Shape: Cushion
Weight: 0.96ct
Color : I
Clarity : VS2
Cut Grade: Ideal
GSI Report # 41266400101
Thanks,
Darren
A:
Hi Darren,
This .96ct Cushion Brilliant is supposed to be a 'Hearts and Arrows' ideal cut cushion but the GSI report shows a generic diamond image for the photo. It's obvious that the image is generic because it appears to have it's length longer than it's width, however the GSI report says the measurements are 5.65 x 5.61mm which would indicate that this diamond should appear square. The girdle is also slightly thick to extremely thick which means that a lot of carat weight is being held in the girdle and translates to a smaller face-up size diamond. And finally, the hearts and arrows image on the GSI report is extremely small and is not the same shape as the larger diamond image on the left. There is also no clarity plot diagram to indicate what inclusions are in this VS2. We don't even know what inclusions are on this diamond because the GSI lab report doesn't tell us anything.
Since the information is either missing or not fully accurate, I cannot recommend this diamond. It's a mystery how they can ethically offer this limited information to consumers and get away with calling this diamond an 'Ideal Cut' Hearts and Arrows diamond.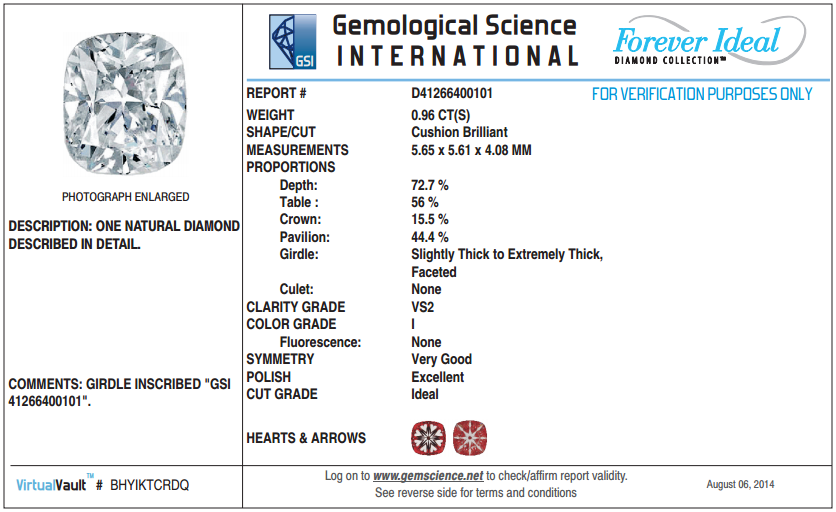 I recommend staying with either GIA or AGS for an accredited 3rd party gem lab for evaluation and confirmation. If your total budget is $7,500 for the diamond and the ring, then I recommend this .948ct F VS2 for $5,993.00 with this four prong Melissa setting in 18k white gold for $850.00. Total for both is $6,843.00.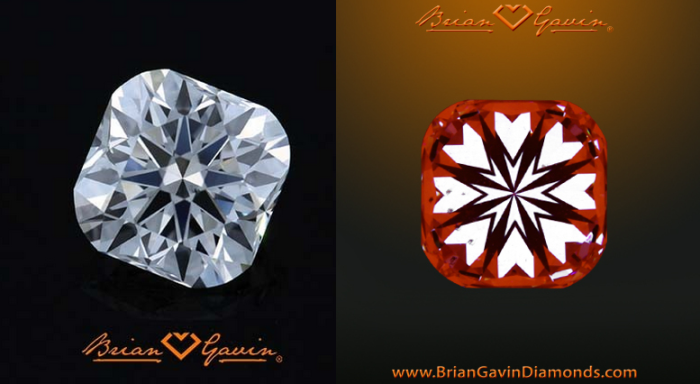 The above diamond is part of BGD's H&A's super-ideal cushion cut diamonds. This diamond is graded by AGS with ideal light performance, ideal polish and ideal symmetry and clearly shows the actual diamond image on BGD's website along with light performance information such as ASET, ideal-scope as well as a confirmed actual image of the diamond's hearts and arrows optical symmetry. The BGD is also three color grades higher. Overall, the .948ct F VS2 offers far more value and is still LESS than your Fred Meyer cushion cut engagement ring.
Please let me know if you have any questions.
Kind Regards,
Liz
Hey.You Want Ideal Cut Diamonds?
You've got it.
Join ODBA's Diamond Deal Friday and get handpicked diamonds every week from me to you.
No consultation required. Subscribe now!