Q:
Hi Liz,
What do you think of this Leo 3-Stone Princess cut diamond ring?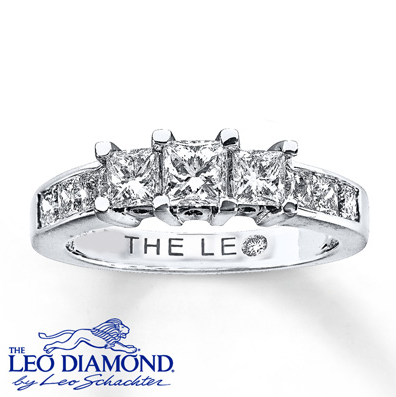 Thanks,
Brittany
A:
Hi Brittany,
Your link is to an already set three stone ring in 18k white gold. This princess cut three-stone ring has diamonds that are SI2 that will not be eye-clean. Also, this ring doesn't have a GIA or AGS grading report; it comes with a lab report from GSI and GemEx. The most trusted labs in the industry is GIA and AGS.
Also, please keep in mind that we are looking at a computer CAD image of the ring. The price for this ring is $5,599.00 but I don't recommend spending this kind of money on a lower-quality diamond ring with no other information on it's diamonds.
Generally, I don't recommend buying a preset engagement ring. It is best to choose a loose diamond first, fully evaluate and inspect it, and then choose a suitable setting.
Kind Regards,
Liz
Q:
Thx a lot Liz for your quick response, the truth is my hubby purchased the Leo ring for me but when I saw it I didn't feel it was worth the price so I went in to see if I could exchange it for something else. It's still under 30 days so I should be able to return it for a full refund. I know my hubby would prefer a store (instead of buying online), do you know of any better store? Also, I prefer round diamonds instead of princess. What do you think?
Go With BGD – Better Cut, Better Color, Better Clarity
A:
You are welcome Brittany.
I don't work with brick and mortar stores, I recommend online vendors only.
Purchasing a diamond ring online is completely safe. I work with only the most ethical and trusted vendors with whom I have a personal relationship. So, if you can convince your husband to look outside of a store, I would suggest taking a look online. For example, you would get much better quality if you were to purchase something like this:
I love this 'Trellis' design in platinum for $1,575.00: http://www.briangavindiamonds.com/engagement-rings/three-stone-trellis-platinum-5376p?a_aid=diamondadvice
You can pair this with two .25ct side stone diamonds, and one .60ct center stone.
Here you go:
.236ct G VS2 for $470: http://www.briangavindiamonds.com/diamonds/diamond-details/0.236-g-vs2-round-diamond-ags-c-104069440095
.240ct G VS2 for $495: http://www.briangavindiamonds.com/diamonds/diamond-details/0.240-g-vs2-round-diamond-ags-c-104069440027
with this gorgeous .602ct G VS1 for $3,070.00: http://www.briangavindiamonds.com/diamonds/diamond-details/0.602-g-vs1-round-diamond-ags-c-104070276114
All together a top quality, pure platinum, three-stone engagement ring with a total of 1.078ct of diamonds. Round diamonds are the classic look for most engagement rings and offer superior brilliance in comparison to other diamond shapes. All of the round diamonds are super-ideal hearts and arrows and will sparkle beautifully. They are also all triple 0 AGS (ideal light performance, ideal polish, and ideal symmetry) and guaranteed eye-clean.
All this for $5,610.00. Wow – you can't even compare the difference in value here. This ring will be absolutely stunning and you'll forget all about the Jared store! 😉
Let me know what you think and if you have anymore questions.
Liz
Q:
Thx so much for your quick and honest feedback! Overall, do you think my chosen BGD is better and will sparkle more than the Leo ring?
Brittany
A:
Hi Brittany!
Oh, yes, I most definitely think that the Brian Gavin princess will be 100x's more beautiful than the Leo diamond. Absolutely without a doubt. The Leo diamond's clarity is an SI2 and the side-stones in the ring are graded I SI2. Compare this to the BGD setting which has G/VS1/VS2 diamonds and are all cut for brilliance and sparkle!
Also, the center-stone in the Jared ring is going to be an I SI2, whereas you know for sure that the BGD is a gorgeous triple 0 AGS ideal graded princess that is G VS1. It is a much cleaner stone and also much better cut. The difference in quality is obvious. 18k vs. platinum. I color vs. G color. SI2 clarity vs. VS2/VS1. Amazingly the only thing that is similar is the price – but you can see how the Jared ring is overpriced due to store mark-up and retail branding. From my personal perspective, you cannot even compare the two. Go for the BGD diamonds!
Take care,
Liz
Q:
Thx a lot Liz. You are the best 🙂 I told Jamie (BG staff) you referred me to BGD and you have been very helpful.
Hey.You Want Ideal Cut Diamonds?
You've got it.
Join ODBA's Diamond Deal Friday and get handpicked diamonds every week from me to you.
No consultation required. Subscribe now!