Everyone has heard of Argyle pink diamonds and fancy yellow diamonds. These are perhaps the two most popular diamond colors when it comes to fancy colored diamonds. However, only the true diamond connoisseur will know that the 2nd rarest color (after red) are loose green diamonds. Yes, green.

The range of color for loose green diamonds can range from one to two secondary hues ranging from yellowish green to blueish green and can have brown or gray tints. However, the Pure Green Color is extremely rare and these have eight different color intensity grades ranging from: Faint Green, Very Light, Light, Fancy Light, Fancy, Fancy Intense, Fancy Vivid, and Fancy Deep.
Famous Green Diamonds
One of the most famous green diamonds with natural green body color is the Dresden Green. This diamond dates back to the early 18th century and is thought to come from the Kollur Mine in India. In 1768 the diamond was set in an ornate hat ornament where it is still on display at the Albertinium Museum in Saxony, Germany. In 1988 GIA examined this pear shaped diamond and concluded that it was an extremely rare type IIa diamond with clarity of VS1 . It is 40.7ct and measures 29.75 × 19.88 × 10.29mm. It is known to be the largest and finest natural green diamond ever discovered. It has an apple-green color from natural radiation exposure.
Another very famous green diamond is the 5.51ct Ocean Dream which as a beautiful Fancy Deep Blue-Green color with SI1 clarity and is the only known diamond in the world with this color combination. You may wonder how much money a diamond of this rarity may cost. Well, in May 2014 Christie's auction house in Geneva started the opening bid for this diamond at a whopping $5,550,000.00!!! In little more than a minute, this diamond was sold for nearly $9M. If you are curious to see how an auction of this caliber is conducted, thank Leibish&Co for providing a rare insight into this luxury world that us mere mortals can only dream about…
How To Invest In Loose Green Diamonds – The Importance of 'Naturals'
Of course most of us do not have a spare $9M to spend on one of the rarest green diamonds in the world, but there are still realistic options for those of you that are looking to purchase a green diamond for investment or jewelry. So, what are some important characteristics to look for when investing in a fancy green colored diamond? First of all, the stronger and purer the green color, the higher the price. With green diamonds, this means anything along the following color spectrum of Faint Green, Very Light Green, Light Green, Fancy Light Green, Fancy Green, Fancy Intense, Fancy Vivid, and Fancy Deep. Of course Fancy Vivid and Fancy Deep are among the most rare of all green diamonds.
An example of this would be this .42ct Fancy Vivid Green: http://www.leibish.com/green-diamond/042ct-fancy-vivid-green-radiant-si1-171863-22256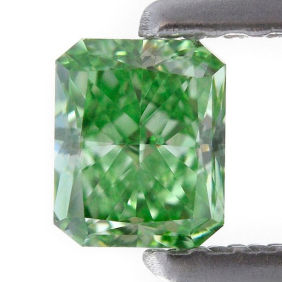 This radiant shaped green diamond has a pure vivid green color with no secondary hues; making it exceedingly rare. A great size for a investment, this diamond was graded by GIA in April 2015 and has a SI1 clarity. Remember, clarity is not as important in rare fancy colored diamonds as it is in white/colorless diamonds. With fancy colored stones, the diamond investor and collector is more interested in color saturation.
If we take a look at the GIA plotted diagram we'll notice some interesting details: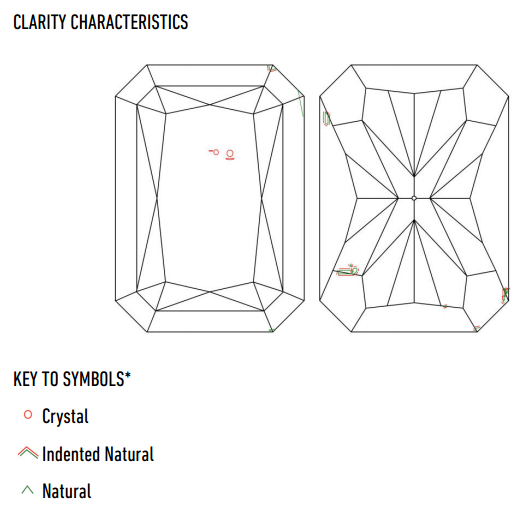 You may wonder why there are quite a few naturals and indented naturals plotted on the GIA report. In fact, you will likely find all natural green diamonds to have these interesting characteristics. A natural is a a non-polished portion of the diamond; essentially referring to the original surface of the diamond. These are usually found on or near the girdle and minor facets. An indented natural is a natural that is indented into the surface of the diamond. Natural green diamonds get their color from exposed radiation and are thus extremely difficult to prove authenticity of color origin. Therefore diamond cutters will purposely leave a piece of the rough unpolished as proof of natural color origin which GIA then uses to confirm authenticity.
Other natural green diamonds for investment consideration are:

From Left:
.15ct Fancy Vivid Green with I1 clarity for $27.100.00
.23ct Fancy Vivid Green with SI1 clarity for $49,600.00
1.67ct Fancy Green with SI1 clarity for 125,350.00
1.51ct Fancy Green with SI2 clarity (call for price)
All the above diamonds are deemed investment grade diamonds due to their pure green color, intensity, and market demand. Fancy colored diamonds account for only 0.01% of all diamonds in the world and in the last 20 years the industry has tracked an impressive track record with fancy diamonds outperforming every single hard asset and index. Yaniv Marcus, VP of Asia-Pacific & Investments at Leibish & Co says, "Natural green diamonds are rarely seen in public auctions. In fact, they are so rare that they fall under the "passion investment" category. Their financial valuation is extremely difficult to measure and therefore an investor will acquire such a diamond for a collection. The collector will hold the diamond for a long time, most probably to pass it on to the next generation."
If you have any questions regarding loose green diamonds or fancy color diamonds as an investment, I recommend contacting Leibish&Co for independent advice.
Fancy Pink and Fancy Green – Great Complimentary Colors
Leibish also has pre-mounted engagement rings set with fancy color diamonds for those of you looking for design inspiration. Some outstanding fancy green diamond pieces include:
Fancy green diamonds in all colors and hues tend to stand out more if complemented with fancy pink colored diamonds. The natural warmth of the pink diamond compliments the coolness of the green resulting in greater overall depth for both natural colors. The two above examples are great design inspiration examples and both are one-of-a-kind pieces. To check out more unique hand-made rings set with fancy colored diamonds, check out Leibish's Colored Diamond Engagement ring collection.
Things To Remember
Always purchase a fancy green colored diamond with a corresponding gem lab report; preferably GIA.
Natural Green Diamonds get their color saturation through exposure to radiation. Since this is still somewhat difficult to prove natural origin, it is preferable for green diamonds to retain some areas of 'rough' non-polished surface areas; naturals and indented naturals
Investment grade natural green diamonds are pure in color saturation and come in eight different color intensity grades
Natural green diamonds with one or two secondary hues are still considered rare and make truly one-of-a-kind engagement rings/jewelry pieces
Buying individual fancy colored diamonds is just one way to invest. Other options include: investing in shares of major mining companies and investing in a diamond fund (for more information see here)
If you have any questions regarding the purchase of a fancy green colored diamond please don't hesitate to contact me.
Happy Diamond Buying!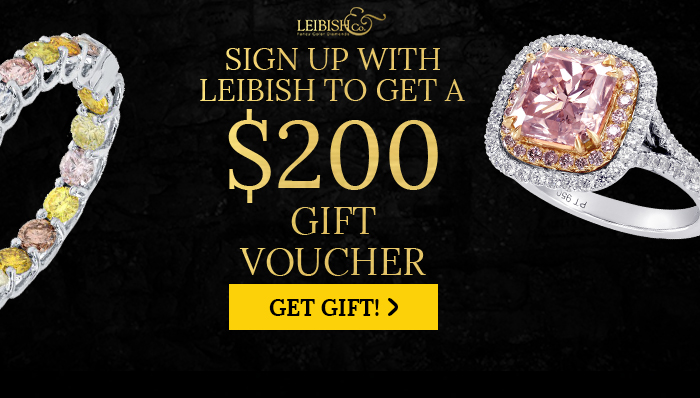 Hey.You Want Ideal Cut Diamonds?
You've got it.
Join ODBA's Diamond Deal Friday and get handpicked diamonds every week from me to you.
No consultation required. Subscribe now!