Q:
Hi Liz,
I'm looking to source a diamond online due to being over quoted from a few jewelers I've spoken too. I'm looking for a pear shaped diamond between 1.00ct – 1.20ct, E colour (preferable D) with ex cut, ex symmetry, and ex polish. 🙂 I have a few I've short listed but I am undecided as of yet.
Talk soon,
Erik
A: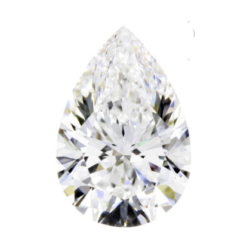 Hello Erik,
I'm happy to help you.
I found this gorgeous 1.20ct D VS1 for 10,509 AUD: https://enchanteddiamonds.com/diamonds/view/P120-3KPLEP
This pear has a length/width ratio of 1.49 and measures a nice 9.03×6.05mm. It has no visible bow-tie and has medium blue fluorescence. It was recently graded by GIA in October of last year and has Excellent polish and Excellent Symmetry.
Overall, a stunning diamond that is well within your budget.
Let me know what you think and if you have any questions.
Kind Regards,
Liz
Q:
Hi Liz,
Thanks for much for your advice and opinion. I see that you have recommended Enchanted Diamonds a lot on your site.
Here is a short list of some stones I have narrowed down. Could you kindly provide your opinion prior to my final purchase? I also love the stone which you recommend too.
Here they are:
https://enchanteddiamonds.com/diamonds/view/P127-CRNLTU
https://enchanteddiamonds.com/diamonds/view/P105-GP1BZJ
https://enchanteddiamonds.com/diamonds/view/P103-L4RXYN
I guess I'm looking for the stone with the best cut and light performance possible. However due to myself having only researched for the last few months it hard to make a call being untrained. Have you heard of any instances where they send the wrong stones to buyers??
Also would you recommend staying away from blue fluorescence if possible?
Thanks again for your time and assistance. 🙂
Erik
A:
Hi Erik,
Yes, I recommend Enchanted Diamonds among my other 5 star rated diamond vendors. It depends on what a client is looking for to determine which vendor best fits their requirements. In your case, Enchanted Diamonds has many fancy cuts to choose from in their inventory and has images with light performance and HD videos to help with the evaluation process.
There is no standard for a pear shaped diamond as much of it is left to the individual in terms of overall shape and beauty. Please understand that in terms of color, a D and E will look essentially the same. These are both colorless. You would need special equipment in a lab under strict lighting conditions and a master stone set to tell them apart. As for clarity, anything that is eye-clean (SI1 or VS2 and above) will not show any inclusions/blemishes. Therefore, these two characteristics will be considered equal with the four stones we are now evaluating.
Thus, what we can visually 'see' is the shape and face up size of the pear shaped diamond and the overall light performance (white light reflection highlighted by dark contrast areas that are even and symmetrical) as well as scintillation aka sparkle.
In terms of shape, I prefer a pear that isn't too fat or too thin, and therefore like the 1.20ct D VS1 in overall shape best. A teardrop that is evenly pointed is what we are looking for. My second favorite would be the 1.05ct E IF.
With regard to light performance, we are looking for the least amount of light leakage coupled with even distribution of contrast areas to make the white light really pop. We don't want the pavilion to appear watered down or blurry. Thus, my favorites are once again the 1.20ct D VS1 and the 1.05ct E IF.
Now, if we compare these two diamonds, we see that the 1.05ct E IF measures 8.66×5.74mm with medium to thick girdle. Table is 59% and depth is 63%. The 1.20ct D VS1 measures 9.03×6.05mm with slightly thick to thick girdle. Table is 60% and depth is 62.3%. Thus, we can see that the 1.20ct offers more face-up volume for it's size and is significantly larger to the naked eye when compared to the 1.05ct E IF. Additionally, the HD video shows how the diamond reacts to a light source. The D appears whiter overall and much brighter.
Medium blue fluorescence is nothing more than an identifying characteristic. About a third of all diamonds have this as a natural byproduct of its formation in the earth. In this case, a blue fluorescent diamond with 'D' color is just noted on the GIA report and doesn't have any effect on its transparency or visual appeal.
Therefore, my vote is still for the 1.20ct D VS1. It offers the best overall looking diamond, the largest face-up size, the best shaped pear, and is simply gorgeous.
No, I've never heard of Enchanted Diamonds sending the wrong diamond to a customer. Even if they did do this by mistake, it is easy to confirm with a jewelers microscope and view the GIA report number transcribed on the girdle of the stone.
1.05ct E IF: https://enchanteddiamonds.com/diamonds/view/P105-GP1BZJ?a_aid=ODBA
1.20ct D VS1: https://enchanteddiamonds.com/diamonds/view/P120-3KPLEP?a_aid=ODBA
If you have any questions, please don't hesitate to ask!
Also, I've included my affiliate links for the diamonds above. If you are ready to purchase, I would appreciate you clicking my link before you purchase so that ODBA gets credit for your referral.
I look forward to hearing from you soon.
Kind Regards,
Liz
Q:
Hi Liz!!
Thanks again for your time and opinion on the stones. I have made the purchase of the 1.20ct stone and followed the link through your website as requested. I'm going to have it inspected upon arrival by an expert in the city where I live also.
I just have one last question in regards to the stone and will be more than happy to support your website for your efforts and troubles.
It's in regards to the clarity of this stones…. I've just noticed that it has a lot of inclusions for a VS1 diamond. Do you think it has been graded poorly or that these inclusions will effect it's clarity to the naked eye or light performance???
Could you please have a quick look at the GIA certificate and pass on your thoughts. Once again thanks so much for your time.
Erik
A:
Hi Erik,
Thank you for supporting ODBA!
By definition, a VS1 graded diamond has inclusions/blemishes that are difficult to see with 10x's magnification. In your case, this 1.20ct D VS1 has twinning wisps as the grade making inclusion. These are not visible without magnification and are not even visible in the magnified HD video on Enchanted Diamond's site. Therefore, this diamond is absolutely eye-clean.
The VS1 clarity grade is appropriate for this diamond's inclusions. The clarity does not negatively effect it's clarity or transparency. It's a gorgeous stone!
Kind Regards,
Liz
Hey.You Want Ideal Cut Diamonds?
You've got it.
Join ODBA's Diamond Deal Friday and get handpicked diamonds every week from me to you.
No consultation required. Subscribe now!