Princess cut engagement rings are the 2nd most popular engagement ring choice after the classic round brilliant shape.
Princess cut diamonds are square shaped diamonds that are 'brilliant cut' and were first developed in the 1960's as an alternative to the brilliance found in a round shaped diamond. The princess cut diamond offers a more modern look while still offering beautiful brilliant light reflection.
At ODBA, I focus on cut quality since the way a diamond is cut directly affects the way it reflects light; aka brilliance/sparkle. Unfortunately, most consumers don't realize that not all princess diamonds are cut the same way.
Princess Cut Diamonds and 'Chevrons'
Ideal cut princess diamonds should be square in shape (1:1 ratio), show lots of bright white light reflection, have a good balance of light/dark contrast, and balanced fire (dispersion) and brilliance. All of the above is completely dependent upon how the princess diamond has been cut and faceted by a diamond cutter.
The pavilion of a princess cut diamond is very important and has special facets called 'chevrons' that look like large V's. These facets run from the corners of the princess to the center of the pavilion (culet). A princess cut can have 2, 3, or 4 rows of chevron facets in the pavilion. Different numbers of chevrons results in different overall 'looks' for a princess cut engagement ring. Keep in mind:
Chevron facets extend from the corner to the culet and help break the light reflection into a myriad of sparkles and reflections
The number of chevron facets determine the amount and size of sparkle
The greater the number of chevrons, the smaller the facets = smaller/more rapid sparkle
The lower the number of chevrons, the larger the facets = larger/more distinct sparkle
Take a look at the gallery below to see the look/feel of how a princess cut diamond can appear drastically different depending on how many chevron facets are located in the pavilion.
Princess With 2 Chevrons




Princess With 3 Chevrons




Princess With 4 Chevrons




Can you spot the difference? As beauty is in the eye of the beholder, some individual's may have a preference for larger flashes of white light and less chevrons vs. smaller more numerous flashes of white light (splintery effect) with more chevrons. Ideal princess cut diamonds can be found with all three faceting options.


Loading ...


Top quality ideal princess cut engagement rings offer the following advantages:
Face up 'Whiter' than non-ideal princess cut diamonds
Face up 'Larger' than non-ideal princess cut diamonds
Perfect balance of 'Brilliance' and 'Fire'
Ideal cut quality camouflages internal inclusions in SI or lower clarity grades
Most consumers will agree that all the above is sufficient enough reason to invest in a top cut quality princess diamond. But how does one go about finding these perfect diamonds?
Princess Cut Diamonds And Cut Grade – AGS vs. GIA
Since most consumers do not know how to evaluate cut in a princess shaped diamond, most will leave it to the gem lab to provide a 'cut grade'. However, did you know that there is only one gem lab that provides a cut grade for fancy shaped (non-round) diamonds? 
AGS (American Gem Society) is the only gem lab that provides a cut grade on fancy cut diamonds. For example, here is a princess cut diamond from AGS that clearly shows a cut grade based on it's overall light performance:
This is important because many diamond dealers, jewelry shops, or online diamond retailers give their own cut grade to princess cut diamonds and they cannot be assumed as accurate. Although GIA is a very reputable gem lab, they do NOT provide a cut grade for fancy cut diamonds (fancy cut diamonds are anything other than a round shape). See this GIA lab report for this 1.03ct J VS2 princess cut diamond as an example:
Thus, the only way to confirm if a princess cut diamond has an ideal cut is to refer to it's AGS lab report. You can search for princess diamonds with AGS lab reports on ODBA's Diamond Search. Additionally, an outstanding retailer that offers gorgeous AGS triple 0 ideal princess cut diamonds is Brian Gavin, so be sure to check out his 'Signature' princess diamonds with 3 chevrons!
Using ASET To Determine Cut Grade For Princess Diamonds
Relying on an AGS lab report for cut grade is the easiest option to confirm overall cut quality. However, another way to evaluate princess cut quality is to utilize a ASET (Angular Spectrum Evaluation Tool). The ASET was developed to work alongside the AGS's performance based Diamond Cut Grading System. It is the only diamond cut grading tool endorsed by the scientific community! But don't worry – it is very simple to use and understand!
When a diamond is viewed through an ASET, a color coded image can be seen. The different colors correspond to angles from which the diamond reflects light.
Red: Represents light coming from angles where there is likely to be bright, direct sources of illumination in most viewing environments. This color is dominant in the ASET image of a well-cut diamond.
Green: Represents low-angle light, which usually is reflected from walls or other objects in the surrounding area (rather than coming from direct sources). A diamond with a high cut quality may show small amounts of this color around the bezel area of the ASET image.
Blue: Represents light that normally is blocked by the viewer's head and body. An ASET image with a moderate amount of this color in an attractive pattern means the diamond has good contrast.
Black/White: Represents areas that do not return light under real-life viewing conditions. If a diamond is cut well, the ASET image will show only very small areas of black or white around the outer edge (and perhaps none).
Here are some examples of high performance 'ideal' cut princess ASET images:




As you can see, the predominant red light reflection in the above ASET images tells us that these princess cut diamonds are reflecting lots of direct bright light with minimal 'green' or low-angle light. There should be some 'blue' for dark contrast that is equally spread throughout the face of the diamond. Little to no black/or white areas corresponds to very little light leakage.
With the aid of an ASET image, consumers can easily search for ideal cut princess diamonds online. If you want to give it a try, go to ODBA's Diamond Search and click on 'ASET' under Diamond Images. You can then search for princess diamonds with this added feature.
Poor Quality Princess Cut Diamonds – What's Wrong With These Diamonds?
Now that you've seen what makes an ideal cut princess diamond, you should be able to easily see the difference between a poor cut quality vs. an ideal cut quality. Just to be sure, let's see take a look at these princess cut diamonds from James Allen and see if you can spot what's wrong with them!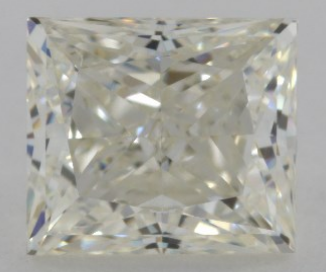 What's Wrong With This .72ct I VVS2 Princess Cut Diamond?
This princess cut is not square shaped. It has a 1.15 length width ratio (ideal cut is 1.00 ratio)
This 'I' color diamond looks overly yellow due to lack of overall white light reflection and dark contrast pattern
This diamond appears watery or blurry under the main table facet indicating light leakage through the pavilion
This .72ct measures 5.21 x 4.51mm, which faces up small for its carat weight
Summary: This princess is 'blah' – not exciting and just plain boring. Too watered down, blurry, misshapen, and shows too much body color for a near-colorless 'I'.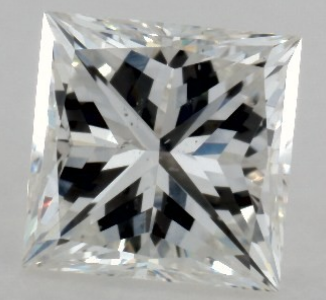 What's Wrong With This .83ct G SI1 Princess Cut Diamond?
This 'G' colored princess looks so dark! The contrast pattern is dominant which makes the diamond look dead and lifeless.
This .83ct measures 5.05 x 4.98mm, which faces up small for its carat weight
This princess has a 83% table which is overly large and prevents adequate light reflection
The overly dark contrast pattern makes this diamond appear visually small
Summary: This princess is way too dark – where's the life and sparkle? Too dark, too small, too yuck.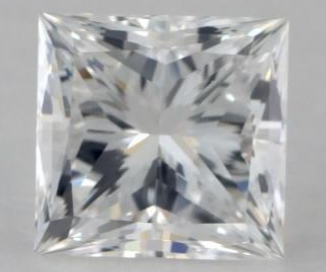 What's Wrong With This .71ct D VVS2 Princess Cut Diamond?
Excessive light leakage on this princess makes it appear dull/dead looking.
Little to no dark contrast pattern is also a contributing factor to making this diamond appear gray in appearance. Dark contrast is necessary to make the brilliance and white light reflection 'pop'.
Summary: This is a perfect example of a dull/dead looking 'D' with VVS2 clarity diamond! It's clear to see that the 'cut quality' of a diamond makes all the difference in terms of brilliance, sparkle and overall beauty.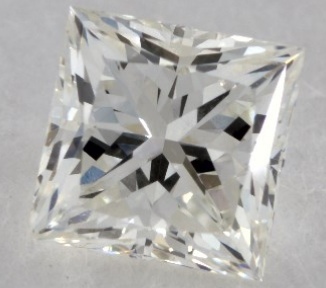 What's Wrong With This .73ct J VS1 Princess Cut Diamond?
Does this 'J' color diamond appear bright and white to you?
Does this VS1 diamond appear gorgeously transparent with no discernible inclusions?
This princess has 2 chevrons in the pavilion and is graded an AGS triple 0 ideal!!!
This princess measures 4.93 x 4.84mm, which is a gorgeous 1:01 length/width ratio
Guess what? Nothing is wrong with it!
Summary: This is a perfect example of a near-colorless 'J' princess that faces up bright white and gorgeously brilliant! The reason is due to it's ideal cut grade, which is confirmed not only by its obvious visual appearance but also by its accompanying AGS lab report on James Allen's website.
Did you learn anything new? Hopefully now you have a greater appreciation for beautiful square princess cut engagement rings and how to search and find only the best! Now that you know what to look for in a princess diamond, let's take a look at the various settings that you could choose to compliment your center stone…
Princess Cut Engagement Rings 
There are many different styles of princess cut engagement rings that are available. Here is a brief rundown of the most popular setting styles and how they are normally described:
The Solitaire Setting: Princess cut engagement rings come in various different settings, the most popular being the classic solitaire setting. Although a princess solitaire engagement ring might sound too simple, you can achieve different looks depending on which setting you choose. Some have just a single center-stone diamond, while others have side-stones for added sparkle. Solitaire rings have a subtle elegance that offers a timeless and classy style for any personality.
Pave and Melee Settings: Pave-set diamonds are very popular as they offer a bit of added sparkle in a very intricate and delicate design. Tiny melee diamonds are 'bead' set next to each other with the result of a continuous surface of diamond sparkle.
Halo-settings: The halo ring setting has been a popular option in the last five years. Women like this look as it makes their center-stone appear larger. The 'halo' refers to a ring around the center-stone diamond. This look can have a more feminine or modern look depending on what princess cut setting you choose.
3-Stone Diamond Settings: Often referred to the 'past, present, and future' ring, these can also double as an anniversary ring. Styles range from classic to more modern and have different looks depending on size and placement of side-stones.












As you can see, there are lots of different styles for princess cut engagement rings depending on your personality and lifestyle. Ideal cut princess stones offer top notch brilliance and sparkle and will enhance any setting choice. Thanks to Brian Gavin Diamonds for all the lovely images above. If you like any of these designs be sure to visit his website or learn more about his 'Signature' Princess diamonds. Be sure to also check out his diamond stud earrings, solitaire pendants, and eternity wedding rings.
Remember, sparkle and brilliance in a diamond are the result of a precision cut and only the best cut diamonds are ideal! If you have any questions about ring setting styles or would like assistance in finding your ideal cut princess engagement ring, don't hesitate to contact me! I look forward to working with you!
Happy Diamond Buying!
Hey.You Want Ideal Cut Diamonds?
You've got it.
Join ODBA's Diamond Deal Friday and get handpicked diamonds every week from me to you.
No consultation required. Subscribe now!