Victor Canera
Home to the Canera Ideal Hearts, Canera Antique Cushion, and Canera European Round


(5 / 5)
Hand made jewelry is mostly a cliche term in today's fast paced society, yet there are those quality craftsman that still adhere to the time honored techniques of true hand forged fabrication. Such is the case with Victor Canera and his team. Victor Canera is both the founder and namesake of VictorCanera.com, an online retailer offering the finest in bespoke hand made jewelry designs and high performance designer diamonds. Victor himself is a 3rd generation jeweler and diamontaire with 26+ years of experience creating jewelry in the 'old world' techniques of hand forged fabrication. The company was founded in 2000 and hosts a brick and mortar boutique in Los Angeles, CA offering custom quality craftsmanship for only the most discriminating of tastes.
Hand fabricated jewelry requires experience, time, and attention to detail. There aren't many jewelers skilled in this quality of craftsmanship as most jewelry today is mass produced and manufactured. However, with Victor Canera, ALL jewelry is completely hand made with each piece of metal cut and sculpted by hand without the use of wax, molds or casting. The result of this laborious process is a higher and finer quality heirloom piece of jewelry that is truly one-of-a-kind.
However, jewelry is not the only area where Victor excels in his attention to detail. As diamonds are the focal point of engagement rings and many other statement pieces, Victor sought to create unique diamond cuts that are reminiscent of the early 20th century while taking advantage of today's modern light performance cutting techniques. The Canara Antique Cushion and the Canera European Round cut are just two examples of how Victor has recreated the old-world vintage look for today's modern bride. For consumers looking for the ultimate in super-ideal symmetry and light performance Victor also offers his Canera Ideal Hearts line of round brilliant diamonds.
Hand Forged Jewelry Fabrication For Engagement Rings
In today's high paced society, about 98% of all jewelry is created using wax molds and casting which is to say, they are 'mass produced'. Large jewelry retail stores like Zales, Kay's, Jared's, and online vendors such as Blue Nile or James Allen all sell jewelry that has been created using wax mold casting. Generally, wax casting is fine for most jewelry but is not recommended for very intricate and delicate designs that are best set in platinum.
The ways in which wax casting differs from hand forged jewelry can be seen in the following compromises:
the casting process can introduce contaminants into the metal
the jewelry item must be further filed to eliminate the roughness that the casting process has introduced (tends to dull down the level of detail)
the jewelry item may have areas that are still part of the original 'rough' texture due to tools not being able to polish them completely
Therefore, hand-forged jewelry is a much better and more discriminating option; especially for engagement rings. 
Hand Forged jewelry fabrication refers to the actual manipulation of the melted metal parts to form a piece of jewelry. As there is no wax casting involved, there is no level of impurity and no need to 'clean off' the rough metal surface. There result is a purer more refined piece with a mirror-like finish on every single part of the piece; no areas with any imperfections.
The finished design will be lighter in weight than a cast design and more dense due to no porosity (tiny air bubbles trapped in metal) which makes the hand forged item much more stronger and less likely to scratch and deform. Essentially every single part of the ring from the shank to the tiny prongs are completely created by hand!
These are truly heirloom quality pieces of jewelry. The creation process takes time and skill.
Boutique Diamonds – The Story Behind The

Canera Antique Cushion

and

Canera European Round
For those of you that like the look of antique style diamonds, you'll love the  Canera  Antique Cushion and Canera European Round diamond cuts.
The Canera Antique Cushion or CAC is actually considered a 'High Performance' diamond and is modeled from the antique Old Miner Cut/Old Mine Brilliant diamonds from the turn of the century. These Old Miner's were hand cut with larger facets and an open culet allowing broader and bigger flashes of light. The crown was often very high thus allowing much more fire or color dispersion from the diamond when moving under a light source.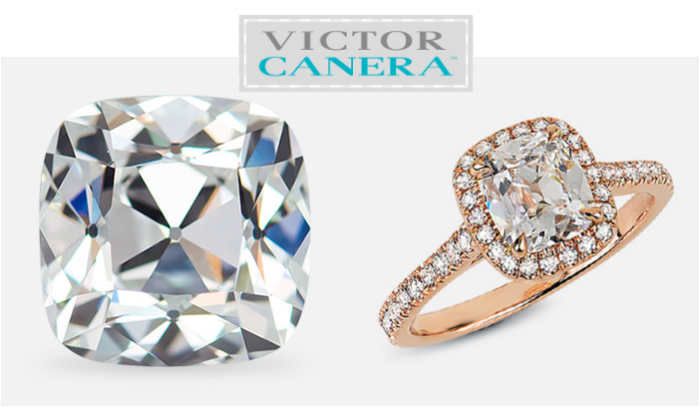 As a result, the CAC was developed to incorporate the antique look of the Old Miner cut facet pattern and cushion shape but with today's higher performance cutting technology. All of Victor's Antique Cushions are graded ideal cut by the AGS; with ideal light performance, polish and symmetry. Not only are all of his Antique Cushions ideal cut grade with gorgeous light performance but they are also specifically chosen from the rough and precision cut and polished according to the company's proprietary design. This is important to know as other diamond vendors simply purchase generic antique cushions from diamond wholesalers and re-brand them under their their company's marketing terms. The CAC is purely one of a kind and cut to Victor's preferred proportions.
The Canera European Round or CER is another 'High Performance' diamond that is modeled from the Old European Cut diamonds from earlier in the 20th century. These diamonds maintain the original OEC's broad flashes of light with their high crowns and small tables with the difference being that the girdle is rounded. All the CER's come with an AGS grade report with ideal polish and symmetry.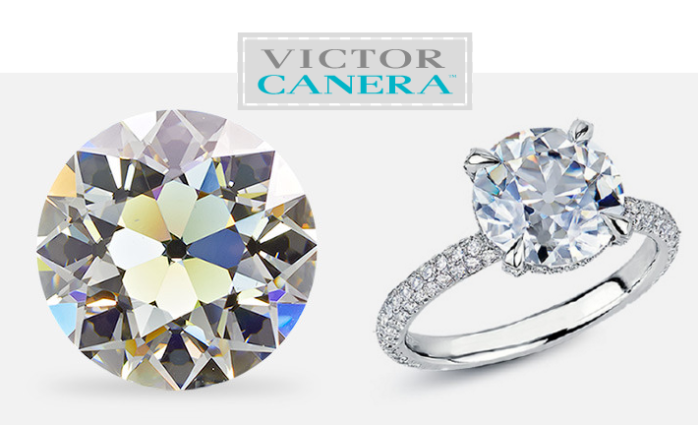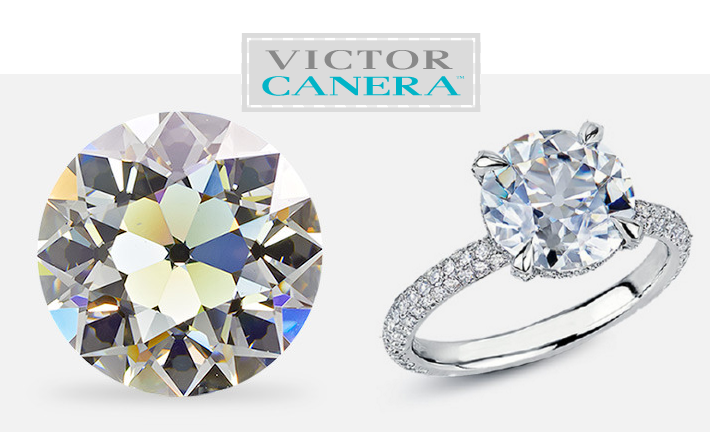 Victor Canera Super Ideal Hearts & Arrow Diamonds
In addition to high performance antique-style diamonds, Victor Canera also offers the modern super-ideal H&A round. All Victor Canera Ideal Hearts diamonds are graded by AGS as triple 0 ideal; ideal light performance, polish and symmetry. These diamonds are the pinnacle of technological perfection; allowing maximum light performance and beautiful sparkle.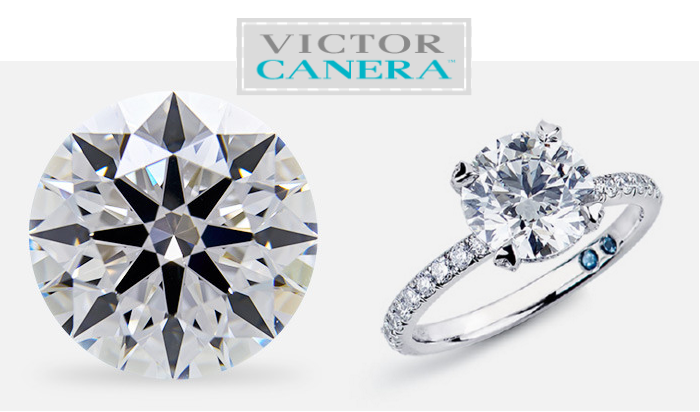 Victor Canera Jewelry
In addition to high performance diamonds, Victor Canera also offers hand forged jewelry including: earrings, bracelets, necklaces, right hand rings, and wedding bands. Once again, the quality of hand forged jewelry is evident.









Victor Canera – Ethical Sourcing
Victor Canera's wide assortment of different diamond shapes, colors, clarity and cuts is just the tip of the iceberg in terms of boutique and unique diamond choice. Not only does the consumer invest in the highest quality hand fabricated jewelry coupled with unique and one-of-a-kind diamond cuts but the consumer will have the satisfaction of knowing that VC takes great pride in sourcing their diamonds from only ethical sources taking the extra step of actually purchasing a "sight" of rough diamonds from a major mining consortium. What this essentially means is that Victor Canera can absolutely trace your diamond to it's rough material since they in fact purchased it that way! For more information on Victor Canera's rough to polish process you can learn more here.
Final Thoughts
Engagement rings and diamonds are often a once in a lifetime purchase. For those of you (man or woman) that enjoy the jewelry making process which includes: the creation of a completely unique and one-of-a-kind piece of jewelry, a rare and unique diamond, and of course completely ethical and transparent sourcing then Victor Canera is a great place to start. Whether you choose one of his traditional and timeless designs or decide to create a uniquely custom and hand fabricated creation – the option is there for you.
For questions on any of Victor Canera's high performance diamonds or jewelry options, please feel free to contact me. I look forward to hearing from you!
Happy Diamond Buying!
Hey.You Want Ideal Cut Diamonds?
You've got it.
Join ODBA's Diamond Deal Friday and get handpicked diamonds every week from me to you.
No consultation required. Subscribe now!