Q:
Hi Liz,
I would really love to get a cushion cut ring and saw these on Brian Gavin's website. Could you please advise which diamond is the best in terms of value and color? 2.184ct G VS1 and 2.015ct F VS1 and 3.080ct J VS2
Although I would love to get the 3 carat stone, I am concerned that the J color would show on yellow tinge since I would like to set my stone on a platinum halo setting. My budget is $40K-$50K including the setting. I've been to Tiffany and Harry Winston over the weekend, and tried out their rings with halo settings. Really loved it and would like to get a center stone between 2.5-3 carat.
Also could you advise whether cushion is good on a halo setting?
Thanks!
Davina
A:
Hi Davina,
I'm happy to help. The cushion shape does tend to show body color well, so a 'J' cushion will appear noticeably warmer if directly compared to a 'G' or 'F'. If you were going to set the cushion in a solitaire setting, then I would have no issue in recommending a 'J' H&A cushion as BGD's cushions face-up brilliantly white and sparkle beautifully. The only way you detect color would be from the side/pavilion view.
However, as you are looking to set your cushion in a halo setting, the side-stone melee accent diamonds are often anywhere from F-H in color, and therefore a 'J' cushion will look noticeably warmer next to the accent melee. So, in your case, I feel you would be much happier with the 'G' or 'F'.
Of all your diamonds I prefer the 2.184ct G VS1 for $32,160.00
The ASET, ideal-scope, and H&A images are all perfect with no visible inclusions. It's definitely a stunning diamond and will look gorgeous in a halo-setting. I actually really like cushions in a halo-setting; it's a very popular look and tends to really show off the unique square pillow shape. I think it will look stunning.
One really beautiful ring for a cushion is this split shank in platinum: http://www.briangavindiamonds.com/engagement-rings/pave-and-side-stones/split-halo-platinum-5444p. The melee on this ring are F/G color so perfect for your center stone.
But, this 'Sarah' ring is perhaps my favorite: http://www.briangavindiamonds.com/engagement-rings/pave-and-side-stones/sarah-halo-platinum-5493p
It has the classic pave set diamonds surrounding the entire circumference of the diamond the mini claw prongs that are very modern. The ring shank has melee diamonds (F/G) surrounding almost the entire ring, with a small portion free for comfort. Finally, there is even tiny accent melee diamonds underneath the halo leading to the ring shank, ensuring that each and every angle shows off beautiful brilliance. I really think this will be a stunning way to show off your chosen cushion.
I also went ahead and asked the BGD team which ring best suits a cushion and they also recommended the 'Anita': http://www.briangavindiamonds.com/engagement-rings/pave-and-side-stones/the-anita-halo-platinum-5950p
Please see attached for recent pics of each setting with a cushion H&A diamond. 😉 It's better to get an actual visual. Let me know what you think!
All the best,
Liz
Super-Ideal H&A Cushion With BGD 'Anita' Cushion Halo (Harry Winston Look-Alike)
Q:
Dear Liz,
OMG!!! Thank you for your super prompt reply and wonderful advice. I am overwhelmed by the amount of information and advice you have provided me in such a short span of time.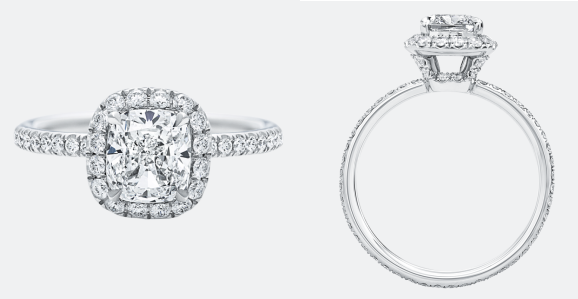 I love both the 'Sarah' and 'Anita' settings! They both look the same (kinda like 'The One' Harry Winston Halo setting), except, Anita seems to be have a more rounded look. I prefer a micro pave halo setting with smaller stones, so that the center stone will not be "over-whelmed".
Once again, my heartfelt gratitude to your response and advice.
Thank you!
D
A:
Hi Davina,
In my opinion, I think the 2.184ct G VS1 would look exquisite with the Anita setting. If you are looking for a delicate halo with micro-pave detail then this ring is a great option. It has the same 'claw' prong detail but with the added benefit of a super-ideal hearts and arrows cushion as the center stone. I especially love the fact that the melee (small diamonds) are 57 faceted, hearts and arrows diamond too! I doubt the Harry Winston ring has this advantage. There is also the very sweet 'heart' platinum detail under the halo for subtle romantic gesture – perfect for an engagement ring. Of course, since every BGD engagement ring is custom-made to fit your diamond, you can opt to keep the 'heart' accent, remove it, or add diamonds to it. Such is the beauty of going with a boutique diamond dealer; you get the 'Harry Winston' look – but without the price tag!
Take care,
Liz
Hey.You Want Ideal Cut Diamonds?
You've got it.
Join ODBA's Diamond Deal Friday and get handpicked diamonds every week from me to you.
No consultation required. Subscribe now!