Q:
Dear Liz,
Thank you so much for your assistance! Our number one priority is definitely that the diamond be as sparkly and brilliant as is possible for a diamond.
We're hoping for at least 1.5ct (but just below that, at 1.45 or so, would be fine if it's a huge cost difference) and ideally around $6K-9K if possible. What color will look icy and bright white? We've heard people say even K color can look bright white? We don't want people to see any yellow. Others say we have to stick with G if we want icy white and for it not to look yellow next to a D? Will J be a very bright white? What would you personally pick?
The metal will definitely be white gold or platinum (if we can afford platinum). Our concern with white gold is we've read it loses metal as time passes?
For clarity, whatever you recommend – we just don't want a clarity that affects the light performance or brightness/sparkle of the diamond or makes it look fuzzy/grainy.
Which setting and prong will allow most light/sparkle for the diamond, and which setting do you recommend? We like the diamond to be set as high as possible (we like that look where the ring leads up to the diamond and really makes it stand out) but don't want to have to worry about it falling or chipping. The settings we like on BGD's site are the Twist or maybe the Jennifer. We heard Brian Gavin diamonds sparkle more than any other.
We're very excited to hear from you and thank you SO much for your help!
Kind regards,
Danielle
A:
Hi Danielle,
Thanks for letting me know your budget and diamond requirements.
With regard to white gold vs. platinum, I wrote an article about the pros/cons of each which you may review here: https://www.onlinediamondbuyingadvice.com/diamond-education/white-gold-vs-platinum/. My vote is always for platinum if you can afford it.
Sticking with an ideal cut diamond with maximum light return coupled with optical symmetry (hearts and arrows) is my first recommendation. Brian Gavin Diamonds specialize in super-ideal hearts and arrows diamonds with top light performance. With regard to color grade, if you are setting the diamond in a platinum or white gold metal setting then I would suggest going as low as a 'J' which is still a near-colorless diamond. You would however, see some warmth from the side profile of a 'J' or 'K' colored diamond but this wouldn't be something that others would notice. If you were really sensitive to color, then I would suggest sticking with a 'G' or better color.
So if you are looking for a 1.45ct+ with a 'J' or better color and an approx budget of $10K, then I recommend the following:
1.46ct I VS1 for $10,319.00: http://www.briangavindiamonds.com/diamonds/diamond-details/1.460-i-vs1-round-diamond-ags-bl-104079526002
Gorgeous super-ideal 'Signature Blue' from BGD that is perfectly eye-clean. Really beautiful stone that fits all your specs and is within budget.
1.51ct J VS2 for $8,460.00: https://enchanteddiamonds.com/diamonds/view/Round/GIA-Certified-1,51-Carat-J-Color-VS2-Clarity-Diamond-HR1VS4
A beautiful GIA triple Excellent with ideal light performance and near perfect optical symmetry. No fluorescence. One color/clarity down but $2K less.
1.52ct F VS2 for $12,317.00: http://www.zoara.com/diamonds/p_round_excellent_cut_f_vs2#p=5608433&a_aid=4f0ebd544dae1
GIA triple Excellent with 'F' color and VS2 clarity grade. Slighlty over budget but included to give you a colorless option. Grade making inclusion of tiny translucent crystals under table facet. Perfectly eye-clean diamond. Medium blue fluorescence.
1.287ct G SI1 for $10,500: http://www.briangavindiamonds.com/diamonds/diamond-details/1.287-g-si1-round-diamond-825.00-104079526018
Super-ideal 'Signature' H&A from BGD with eye-clean SI1 clarity. The grade making inclusion on this diamond is a cloud under the table facet which is not visible without magnification. A great example of an eye-clean diamond.
This should serve as a good starting point to see which direction you feel most comfortable with.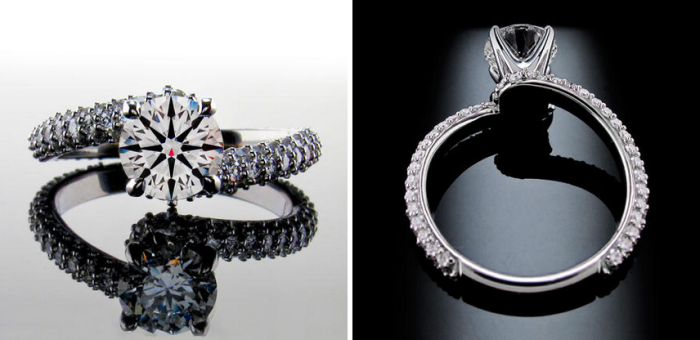 As for settings, I have always loved BGD's micro-pave Twist ring! I'm happy to hear that you are more adventurous in your setting selection – so many people go with the solitaire setting. If you go for the twist setting with the more traditional deep-set four prong head (instead of the 'Truth' head), this will allow plenty of light through to maximize light reflection and sparkle (see above pic). Also, if you are considering this setting, keep in mind that the melee diamonds are F/G color so it would be best to stick to a center stone that is within 2 color grades ('I' or above) so all diamonds compliment each other.
My vote would be for the 1.46ct I VS1 or the 1.287ct G SI1 as both are great options for the Twist ring setting and are super-ideal perfect H&A diamonds that are within budget.
Please let me know if you have any questions.
Kind Regards,
Liz
Q:
Hi Liz,
Thank you so much! To save the most money in the long run, is it better to get the diamond we want now or get a smaller (under 1.00ct) less costly one and later upgrade (which means we have to pay for shipping twice)?
After super-ideal cut and having a crisp H&A, priority is carat weight as long as it will face up white (especially next to any pave or side stones in setting) and be very clean/clear.
Kind regards,
Danielle
A:
Hi Danielle,
With regard to purchasing a smaller diamond now and upgrading later, be sure to understand a vendor's diamond upgrade policy. Most want you to spend at least double what your original purchase price was. BGD requires that you apply the original purchase price towards your upgrade and pay the difference which is very reasonable. However, with diamond prices always increasing, it is probably better to purchase your final diamond now if you can.
Also, keep in mind that any setting you purchase will also need to be altered/modified to fit a larger diameter stone. Therefore, it's better to go for your final diamond purchase now and save on these extra costs.
Kind Regards,
Liz
Q:
Thanks so much Liz! You've been a tremendous help!
Danielle
Hey.You Want Ideal Cut Diamonds?
You've got it.
Join ODBA's Diamond Deal Friday and get handpicked diamonds every week from me to you.
No consultation required. Subscribe now!