Q:
Hi Liz,
I have read your site with interest. I have been scouring diamond sites obsessively for weeks now, creating a shortlist of 2 carat cushion cut diamonds. It is all a bit confusing and I agree it's like buying blind as you have sometimes said. I was interested when you purchased quite a low colour diamond for your pendant as I would have been worried to do this but you say it was a beautiful diamond.
I want more bang for my buck. What would you recommend? HELP! The diamond is for a micro pave halo ring.
Kind Regards
Julie
A:
Hello Julie,
I have a 'K' for my platinum solitaire pendant and it faces up white and sparkles beautifully. However, from the side pavilion angle you can definitely see the warmth. I'd say a J would be perfectly fine for a micro-pave halo setting.
I recommend this 2.01ct J VVS2 for $8,771.00: https://www.ritani.com/diamonds/cushion-diamond-2-01-Carat-J-color-GIA-certified/D-WQFMFW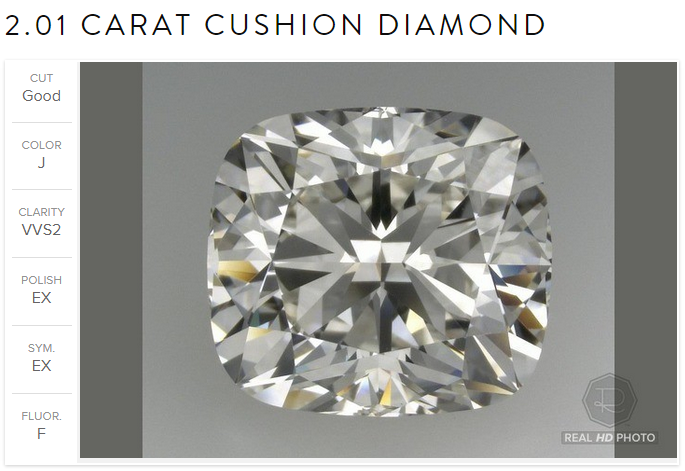 Just graded by GIA this July 23rd, it's a beautiful modified brilliant cushion. Super clean clarity that has beautiful sparkle/scintillation. It's under budget and has nice length/width of 1.11. Faint fluorescence, excellent polish and symmetry. Beautiful stone with lovely contrast/scintillation pattern. If you are interested I'd put this one on hold. 😉
Let me know what you think or if you have any questions.
Kind Regards,
Liz
Q:
Hi Liz,
Thank you so much. I have looked at the stone and it looks lovely. Just a couple of questions..
I know that the cut is the most important thing for sparkle. Is the cut good enough. Also are you happy with the proportions of the cut?
Also I thought fluorescence was a bad thing?
Kind Regards,
Julie
A:
Hi Julie,
Yes, the cut is gorgeous – beautiful contrast pattern and sparkle. Proportions are great. 🙂
Fluorescence is fine. 1/3 of all natural mined diamonds have fluorescence. It is only a concern when it is very strong blue, and even in these cases, you'd have to view the diamond in different light settings to confirm it's not negatively affected. In your case, this diamond has faint fluorescence which won't affect the diamond at all.
It's a super gorgeous stone and the only one I deemed worthy for you for your carat weight and budget.
Kind Regards,
Liz
Q:
Thank you Liz For helping me.  Can I ask why you take the time to do this for people?
Kindest Regards
Julie
A:
You're welcome Julie.
Let me know how it goes with the diamond – and if you have anymore questions.
Here's more info on why I do what I do: https://www.onlinediamondbuyingadvice.com/ask-liz/support-odba/
Best,
Liz
Q:
Thank you so much Liz!
Hey.You Want Ideal Cut Diamonds?
You've got it.
Join ODBA's Diamond Deal Friday and get handpicked diamonds every week from me to you.
No consultation required. Subscribe now!