Q:
Hi Liz,
I'm looking for a 2 carat diamond ring with F color and VS1/VS2 clarity in Excellent Cut, Symmetry, and Polish, prefer no fluorescence. I'd like a GIA lab report. Do I need a GCAL certificate to authenticate fire and scintillation? I'm confused, please advise.
Thank you,
Selma
A:
Hello Selma,
Are you looking to purchase only from Blue Nile? The GCAL report from Blue Nile is really only a branded report that confirms that the lab report is accurate. It's not necessary to confirm a GIA report as it's basically redundant data and is used mainly as a sales gimmic. Therefore, I wouldn't limit yourself to only diamonds from Blue Nile with this report.
Fire and Scintillation are a dynamic characteristic, meaning it must be seen when the diamond is in movement. If you are interested in understanding the more technical science behind the measurement of scintillation or diamond sparkle, I recommend reading my article 'What Makes A Diamond Sparkle?' The most accurate way to measure the sparkle of a diamond is with our own eyes. Hence the reason why I only recommend diamond retailers that provide actual magnified images and videos of their diamonds for sale on their websites. If you wanted to search for diamonds with videos only, just go to to ODBA's Diamond Search and click the 'HD Video' box. It makes for a very easy and convenient search through all of Zoara, BGD, Ritani, and Enchanted Diamonds available inventory.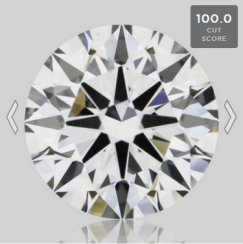 As for your budget and diamond criteria, I've done a search and my favorite diamond for you would be this 2.03ct E VS1 for $31,380.00: https://enchanteddiamonds.com/diamonds/view/R203-QCMFR5
This diamond has everything that you want and is just slightly over budget and has faint fluorescence. Perfectly eye-clean and shows great contrast patterning. It will face-up bright white and sparkle brilliantly.
Let me know what you think and if you have any questions.
Kind Regards,
Liz
Q:
Gorgeous – thank you Liz!
Hey.You Want Ideal Cut Diamonds?
You've got it.
Join ODBA's Diamond Deal Friday and get handpicked diamonds every week from me to you.
No consultation required. Subscribe now!