Q:
Hi Liz, first off great website. I've learned far more here than any other site and want to thank you for passing on the knowledge to make an informed purchase!
I'm looking at this particular diamond from Brian Gavin.
http://www.briangavindiamonds.com/diamonds/diamond-details/0.748-j-si1-princess-diamond-ags-104080103001
It's a signature princess cut, which I'm assuming all his signature princess cut diamonds are AGS ideal cut? Secondly, I'm guessing because it's an ideal cut a J diamond is still OK? Lastly, based on your Blue Nile diamond search criteria, this particular Brian Gavin diamond does not match the search criteria you list for when searching Blue Nile Diamonds, specifically the table and depth. Can you please advise on this?
Thank you!
Sam
A:
Hey there Sam,
Thanks for the kind words – that's why I do what I do! 😉
The Blue Nile cut parameters are for round brilliant diamonds only. Princess cut diamonds are much more difficult to have a set of proportions guidelines for table, depth, crown and pavilion, though I did try to input these into The Diamond Genie to help with search results (I have to make a few tweaks to that).
As for your .748ct J SI1 from BGD, it is a very beautiful princess. This one does have a dark crystal inclusion under the table facet, so it wouldn't be considered eye-clean. In reality if you look for it, you'll find it, however it is not something to be overly concerned with. It doesn't detract from the overall light performance; brilliance/fire or sparkle. So, it is a personal decision.
If it bothers you, then I recommend this .711ct J VS1 for $1,911.00: http://www.briangavindiamonds.com/diamonds/diamond-details/0.711-j-vs1-princess-diamond-ags-104078379003
This one is about the same size and much higher in clarity therefore easing your mind if you want to make extra sure that the diamond is eye-clean. For an extra $200, I feel it is definitely worth it. Please let me know if you have any additional questions.
Best,
Liz
Q:
Thanks for quick feedback Liz! I'm debating on which one as money is kinda tight but I'll be sure to follow-up with you if I have any additional questions. Thanks again for all your help. ODBA rocks!
BGD Is The Only Diamond Vendor That Consistently Cuts Princess Cut Diamonds With 3 Chevrons In Pavilion
A:
Absolutely – you are very welcome. Just in case you weren't aware, BGD's Signature Princess diamonds all have 3 chevrons. The reason this is important is because Brian has deemed this facet combination to have the the most 'virtual facets' in the princess cut which essentially equates to more sparkle. See below for a diagram of what I'm referencing.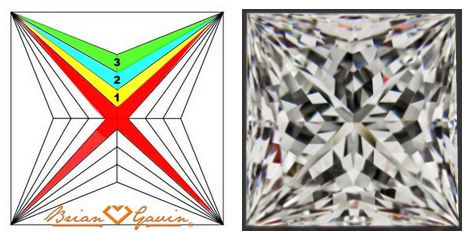 Hey.You Want Ideal Cut Diamonds?
You've got it.
Join ODBA's Diamond Deal Friday and get handpicked diamonds every week from me to you.
No consultation required. Subscribe now!