Q:
My girlfriend wants an asscher cut sapphire with platinum ring. However, I want to propose with a traditional diamond that is an asscher cut. It seems like no place sells them except for one vendor. The sales representative said for an asscher cut, 1.5 carats is the only reason to buy this shape. The cost is astronomical. This leads to my second question. Is this 1.5 carat asscher cut statement true? My budget is $12k.
Thanks,
Greg
A:
Hi Greg,
Asscher cut diamonds tend to look smaller when compared to other shapes but I do not agree with your jeweler's statement of having to purchase a 1.50ct asscher to make the purchase worth it. Depending on who you are talking to, any brick and mortar jeweler will have added costs to take care of so the retail price for a store bought diamond will also be more expensive as opposed to purchasing online.
You mentioned you had a budget of $12K. I have found a beautiful 1.52ct F VVS1 for $10,673.00: https://www.ritani.com/diamonds/asscher-diamond-1-52-Carat-F-color-GIA-certified/D-JHMRJH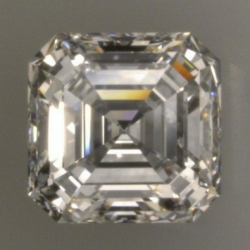 It's an absolutely gorgeous asscher that is perfectly square, white 'F' color and super clean clarity. This diamond is also cut extremely well and sparkles beautifully in the HD video that Ritani has on their site. This will leave you with $1,327.00 for the setting, which I recommend this cathedral setting in platinum for $1,190.00: https://www.ritani.com/engagement-rings/solitaire-diamond-cathedral-engagement-ring-with-surprise-diamonds-in-platinum/5700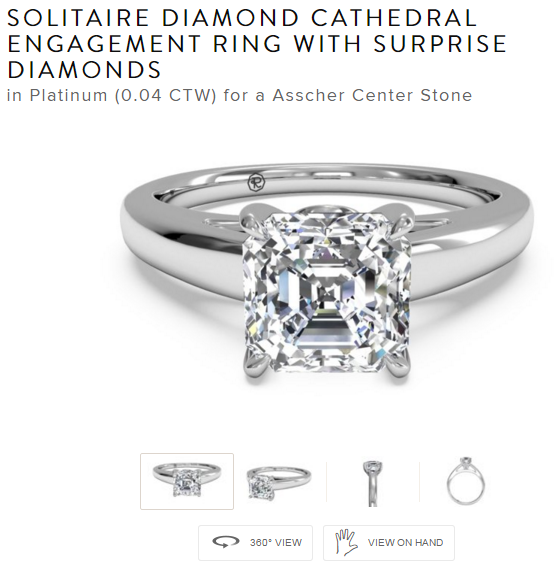 The cathedral setting will further elevate your 1.52ct asscher. This will be an outstanding ring and will absolutely take her breath away! So, you see you CAN get the diamond at the carat weight you want with the budget you have. Let me know what you think and if you have any questions!
Kind Regards,
Liz
Hey.You Want Ideal Cut Diamonds?
You've got it.
Join ODBA's Diamond Deal Friday and get handpicked diamonds every week from me to you.
No consultation required. Subscribe now!