Q:
Dear Liz,
After almost 20 years of marriage I'm finally shopping for a beautiful diamond ring! I am looking for a cushion modified brilliant diamond (as referenced in your your cushion cut diamond article). I am not a fan of the crushed ice look and prefer a more modern style cushion diamond.
I wish I had an unlimited budget, but I do want to find the most beautiful diamond I can find with what I have to spend. I realize that might take me under the 1.00ct size. I have a setting picked out from James Allen so it would probably best for me to get a diamond from there as well.
If you have any suggestions I would be very open to them!
Thanks,
Laura
A:
Hi Laura,
Congratulations on celebrating nearly 20 years of marriage! That is wonderful and I'm more than happy to help you find a gorgeous cushion to commemorate your anniversary!
I did a search for you on JA and found a cushion for your beautiful diamond ring! Here's a 1.01ct I VVS2 for $3,380.00: https://www.jamesallen.com/loose-diamonds/cushion-cut/1.01-carat-i-color-vvs2-clarity-sku-597803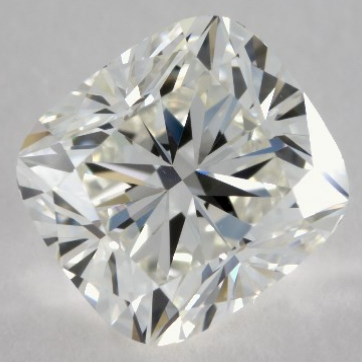 Check out the magnified image and HD video on James Allen. See how the dark contrast areas are symmetrical and make the white light reflection really pop? This is indicative of a great cut. Absolutely no crushed ice in this one.
This cushion is a cushion modified brilliant and is the more 'modern' cushion cut style that you prefer. The cushion modified brilliant has facets that were either added, removed, or modified usually in the pavilion as compared to the Cushion Brilliant cut which has similar faceting in the pavilion of a round brilliant cut.
The facet pattern on this cushion modified brilliant is noted on the GIA lab report:
As you can see the facet pattern for this cushion modified brilliant shows a visible 'X' in the pavilion and this shows up as a very pretty contrast pattern when viewing the diamond in the James Allen video. It is a very beautiful cushion modified brilliant diamond!
The girdle is medium to thick which is great, and there is no blue fluorescence. This 'I' is super bright and faces up great for it's carat weight with dimensions of: 5.95mmx5.48mm. Super clean VVS2, what's not to love with this beautiful, perfect 1.01ct?
Please let me know what questions you have. I look forward to hearing from you!
Best,
Liz
Q:
Thanks so much Liz! This is  a stunning cushion – so glad it's in my budget AND at least 1.00ct! Thank you!
Laura
Hey.You Want Ideal Cut Diamonds?
You've got it.
Join ODBA's Diamond Deal Friday and get handpicked diamonds every week from me to you.
No consultation required. Subscribe now!