Q:
Hello,
I am looking for an engagement ring for my girlfriend and am trying to be as informed as possible before making my purchase. I think I have a pretty good idea of what I am looking for, I just need some advice on the best way to spend my money. My budget is $14-17,000 CAD ($10,500 – $12,700 USD) for the whole ring. I am thinking about purchasing the diamond online and getting the setting made at a local jeweler (although I am flexible on this) so my budget for the diamond would be the price above minus the cost to get the setting done. Ultimately, I am looking for an oval cut solitaire diamond set on a simple, thin band with floating diamonds. So: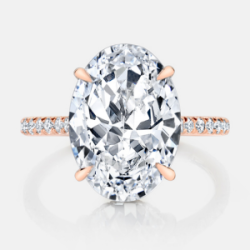 a diamond like this (set in Jean Dousset Francesca engagement ring):
http://jeandousset.com/custom-rings/
I don't really care about the diamond being internally flawless, just that it looks as good as possible to the naked eye. So I have been thinking about something with the best possible cut (which I understand is complicated with an oval diamond but something like a table 52-64 and depth 56-64), a colour in the G-I range and clarity in the VS1-SI2 range. The larger the carat the better.
Aesthetically I am looking for something with a length x width ratio of 1.4-1.5 (or whatever the lxw ratio is in the photo above). Minimal to moderate bowtie effect is fine. I am open to advice on fluorescence but I believe up to "strong" should be fine for a diamond in this colour range
Ultimately my questions are:
1) Any idea where to find a diamond like this online?
2) Is it an okay idea to buy a diamond and have the setting done locally? If not, where is the best place to customize a setting online?
Thanks in advance!
Adam
A:
Hi Adam,
Your setting in platinum will likely cost roughly anywhere from $1,500 – $3,000 from a non-luxury retailer, so you can search for diamonds that are about $7,000 and below (US dollar equivalent to your CAD budget). By the way, the ring you are referring is part of Jean Dousset custom ring design collection. A similar style called the 'Chelsea' has a starting price for a 1ct oval at $12,200.00. This of course is not detailing the color/clarity of said diamond.
I did find this 1.13ct G VVS1 for $6,820.00: https://enchanteddiamonds.com/diamonds/view/O113-2LHEMU
This diamond has a length width ratio of 1.50 with the oval showing lots of light reflection with minimal to no bow-tie effect. It's a VVS1 so super clean in clarity.
Another option is this 1.52ct G VS2 for $9,940.00: https://enchanteddiamonds.com/diamonds/view/O152-SZ993N
This oval has a length width ratio of 1.42 so slightly more round but also showing excellent light reflection with minimal bow-tie. The VS2 clarity is also eye-clean.
You can absolutely have the setting done locally if you wish. You would need to purchase the diamond first to ensure that the setting is made for the appropriate dimensions of your stone. Also, you must ensure that your jeweler has insurance while he/she is in possession of your diamond.
For what it's worth, you could essentially pair the above diamond with this ring setting: https://enchanteddiamonds.com/rings/view/scalloped-oval-cathedral-SC3-PT-O, which costs $2,190.00 making the entire ring under budget by a few thousand for the first diamond and on budget if paired with the 1.52ct G VS2.
Keep in mind you can always tell Enchanted Diamonds to alter the design so that the diamonds are eternity (around the entire shank) and the prongs are claw.
Kind Regards,
Liz
Hey.You Want Ideal Cut Diamonds?
You've got it.
Join ODBA's Diamond Deal Friday and get handpicked diamonds every week from me to you.
No consultation required. Subscribe now!