Q:
Hi Liz,
I'm looking to purchase one of the following diamonds, and wanted your advice. They are both on hold for me:
http://www.bluenile.com/diamond-details/LD06147103
http://www.bluenile.com/diamond-details/LD06164175
For the LD06164175, I was able to obtain a Sarin report but not the ASET image, and for LD06147103 they had an ASET but no Sarin. I also have both clarity photos. Please let me know if you have an email where I can send those to for your review.
I'm leaning towards LD06147103 as the better choice in overall brilliance, based on overall proportions and supported by the photo and the ASET image. Like all Oval cut diamonds, it shows more overall brilliance on the top and bottom and less in the direct center (which it what causes the 'bowtie' effect), but both the ASET and the photo show this effect as being very minimal in this diamond. Also, as expected the Medium fluorescence has no negative impact in this case.
The 1.64 looks nice too, and it faces up positively huge for it's weight. The crown height of 12.5% I would think is a good thing, that should help maintain the balance of brilliance and dispersion. but I suspect that the 58.2% depth- responsible for it's superior spread – might make the bow-tie effect more intense under certain lighting conditions: something that is very visible in the clarity photo.
The size is of importance to me. Do you think I will notice a difference in brilliance between the two? I was really hoping that I would pick the 1.64ct but now my gut is telling me to go with the 1.40ct. The light seems to be breaking through the 1.40ct nicely in the clarity photograph. I'm so torn on which to go with and I need to make up my mind within the next 48 hours.
I think I'm going to go pair the diamond with this halo setting: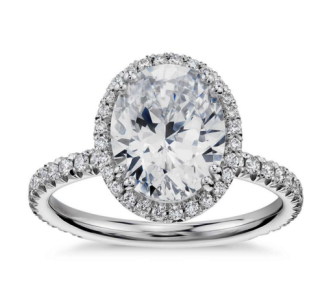 http://www.bluenile.com/build-your-own-ring/blue-nile-studio-oval-heriess-halo-platinum-engagement-ring_50576
Thanks so much for your advice!
Kind Regards,
Kevin
A:
Hi Kevin,
I've had a look at your two ovals. I recommend the 1.4ct I VS1. Light performance is better and bow-tie is minimal.
Liz
Q:
Thank you Liz! With your experience, do you believe this diamond is of good value? I'm not in a huge rush to purchase, but if this is a great choice then I'm definitely ready to proceed.
Appreciate your guidance!
-Kevin
A:
Definitely a great value. I've had a look around and the only other contender I found was a SI1 with feathers. Yours is better. 🙂 Good luck!
Q:
Thanks! Final question…..the 1.64ct is quite a bit larger. Do you think there will be enough of a difference in brilliance (to the average eye) to justify the 1.4ct over the larger stone?
-Kevin
A:
I would go with quality over quantity here. That 1.64ct had a huge dark bow-tie.
Liz
Q:
Hi Liz,
The ring is finally here! I would love to know your thoughts of the 1.4ct. It was a 3 week lead time for the custom build and I have 30 days to return it, if I'm not pleased.
I've attached 2 videos in different light situations. Let me know if the links do not work for you. Thanks so much for all your help!
-Kevin
A:
Hi Kevin!
It's great to hear from you. Your ring looks stunning – so beautiful. It's super brilliant and looks gorgeous in the micro pave halo setting. It is definitely worth it to get the 1.40ct. Your gf will love it. 😉
Let me know if you have any additional questions.
All the best,
Liz
Q:
Thanks so much for your help Liz.
Hey.You Want Ideal Cut Diamonds?
You've got it.
Join ODBA's Diamond Deal Friday and get handpicked diamonds every week from me to you.
No consultation required. Subscribe now!