Q:
Hi Liz,
From reading your review about Forevermark Diamonds I think I will stick with other retailers. My budget is $4k and I would like for you to help me locate the best deal. What I'm looking for is 1.00ct F color VS1 round. Is my budget too low for this request? The setting can be a simple 14k gold.
Can you help me? Thank You.
Tim
.73ct vs. 1.12ct for $4K
A:
Hi Tim,
Thanks for contacting me and letting me know your loose diamond budget.
If you are looking for an 1.00ct F VS1 then your budget is too low. The best that I can recommend in color, clarity and budget would be this .73ct F VS1 for $3,920.00: https://enchanteddiamonds.com/diamonds/view/Round/GIA-Certified-0,73-Carat-F-Color-VS1-Clarity-Diamond-AUEDSB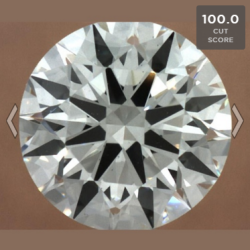 This diamond is a GIA triple Excellent (excellent cut, polish and symmetry) and is also perfectly eye-clean.
Did you want 14k white gold or yellow gold? If you were thinking of setting the diamond in 14k yellow gold, then you could go much lower in color grade because the color of the yellow gold will be somewhat absorbed in the diamond anyway. For example, you could go for this gorgeous 1.12ct K VS1 for $3,978.00: http://www.zoara.com/diamonds/p_round_excellent_cut_k_vs1#p=379844
The ASET image for this 'K' diamond shows that it has ideal light performance which means it will face-up nice and white. You will only notice some yellow warmth if you view the diamond from the side/pavilion angle. Again, if you were to set this diamond in a yellow gold setting then you will not notice any yellow warmth because the yellow color of the setting will be reflected from within the diamond therefore camouflaging it.
This 1.12ct K VS1 is a very beautiful diamond that is a great value for money if you were willing to compromise on color grade.
Please let me know if you have any questions.
Kind Regards,
Liz
Q:
Thanks for the quick response Liz! I prefer white gold, so I'm going to go with the smaller .73ct F VS1 that you recommended. Thanks so much!
Hey.You Want Ideal Cut Diamonds?
You've got it.
Join ODBA's Diamond Deal Friday and get handpicked diamonds every week from me to you.
No consultation required. Subscribe now!