Q:
Hi Liz,
I've been looking for a diamond for over a month and I have to say the longer it takes the harder it becomes. I was really close to buy one from Blue Nile, when I discovered your site…. and I had to start from scratch – again. I've read a little bit, I compared dozens of diamonds on HCA tool, but still don't know what to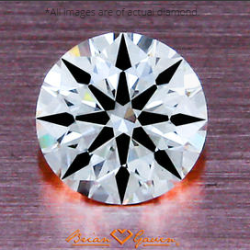 choose. I've got a simple question, and hope that your answer will help me to make up my mind – finally. Despite of setting (I know my girlfriend likes simple traditional 6 prongs ring in white gold) please help me choose between these diamonds.
My budget is rather low I want to spend max $1200 (for a ring) I know that I should firstly look at the cut not the weight, but this one is checked on HCA with 0.8 score so should be fine. The problem is the color. I am afraid that "I" color will be a bit yellowish….but with my experience…hmmm it's only impression, not knowledge. .448ct I SI1
So maybe this one: .348ct F VS1, or this one from Blue Nile: .33ct F VS2. But these are much smaller than the first one…so what should I do? I'll be really grateful for help. If buying a diamond is already so difficult I can't even imagine planning the wedding. Thank you for your reply.
Kind Regards, ps. sorry for my english, but I still learn it
Mic
A:
Hello Mic,
Thank you for contacting me. I'm happy to help you.
An "I" colored diamond is considered color-less and will not be yellow. You would be perfectly fine with this color grade. I like your diamond from Brian Gavin. I think it is a great compromise in color and clarity allowing you to maximize carat weight while still being within your diamond budget. The .448ct I SI1 is a great option. It's a great size and is perfectly eye-clean (grade making inclusion of a few tiny crystals under the main table facet).
Another gorgeous diamond to consider is this one: .408ct I SI1 (also eye-clean)
And here is a suitable setting: six prong solitaire in 14k white gold
Let me know what you think.
And don't worry, the wedding will be great. Everyone feels the same as you do. 🙂
Kind Regards,
Liz
Q:
Hi Liz,
I don't want to sound desperate, but your help is really crucial to me. I raised the "engagement bar" a bit higher and I want her to be the first to find out about my plan. Because of that I obviously cannot ask for help any of her three sisters, neither her friends. Any consultancy in this matter is really helpful, especially that you are a professional.
I still consider purchasing between Brian Gavin and Blue Nile (exact sets I chose are presented below). I know from your blog, that you recommend both of them. I am a bit concerned about the ring quality. I am sure with your help, diamond will be perfect, but I am not so confident about the setting. (Disadvantage buying online) Do you have any suggestions about these two companies? Maybe one is better than the other?
My girlfriend loves simplicity so much that for wedding rings she picked (not literally, but few months ago we were discussing it, and she shared her opinion with me) traditional yellow quite wide, rounded on top "Lord of the ring" type. I am not convinced but don't want to discuss it with her right now. So, does the white gold engagement ring go well with yellow wedding ring? What about the I color diamond then? Is it going to be enhanced or diminished? Or maybe I should convince her to white gold? Or maybe I am so stupid to ask you so many, so basic questions and you'll never write me back…..
Ok, to the heart (and arrows) of the matter. Let say, that the ring is…for you. As a woman, and professional …. which one would you like more?
six prong solitaire in 14k white gold
or
six prong soliatire in 14k white gold
It is another area when we can discuss the importance of quality over the size and vice versa. But there must be some way to find consensus. By the way is it really such a big difference between 0.33 and 0.40?? For you those must be a baby diamonds:)
I started to think that I must be pleased with this ring more than her. I didn't know I am so picky.
Thank you very, very much for help, and I promise that the next mail will be shorter.
Kind Regards,
Mic
BGD's 'Pre-Selected' Option For Engagement Rings On A Budget
A:
Hi Mic,
If your girlfriend wants a yellow gold wedding band, I think it is best to stick with yellow gold for the engagement ring as well. It will look better together. Diamonds reflect the colors around them, so a diamond set in yellow gold will reflect the color from the band. In this case you could go lower in color and not be able to notice any difference. I would say "K" color is perfectly fine if you wanted to get the biggest diamond for your budget.
However, as you asked, I would prefer the larger diamond that is cut to H&A standards. I also much prefer the 'claw' six prong solitaire from BGD. It is much more delicate looking which is especially important as you are considering a petite sized diamond.
Therefore, I prefer this setting: six prong solitaire in 14k yellow gold 
With your original diamond: .448ct I SI1 
As for size difference between a .33ct and a .448ct, you will notice the size difference. If it were me, I'd prefer the larger diamond. An 'I' that is super-ideal cut with H&A optical symmetry will face up white and bright with gorgeous brilliance and sparkle. It will be a stunning ring and you'll both be very pleased.
By the way, most people don't realize the BGD offers a super easy way to search for diamonds and ring settings in one easy search. Just go to their their pre-selected engagement rings page and enter in your budget and metal setting preference. Their site will automatically populate available diamonds that fit your budget and show you various settings to compliment your diamond. It's a really easy way to see what options are available for your given budget.
You can go for either the white gold or yellow gold setting, depending on which you think your gf would prefer in the end.
I hope this helps Mic. Let me know if you have anymore questions.
All the best,
Liz
Q:
Hi Liz,
Thank you very much. I think she'll prefer the larger diamond too. 🙂 Have a lovely day, and weekend.
Kindest regards,
Mic
Hey.You Want Ideal Cut Diamonds?
You've got it.
Join ODBA's Diamond Deal Friday and get handpicked diamonds every week from me to you.
No consultation required. Subscribe now!