Q:
Hi there Liz,
Thank-you kindly for all your helpful advice on your website. Fantastic!
I'd like to see if I'm on the right with the attached link. My budget is approx. AU$15k. I'm looking for a c.2+ carat, cushion cut, with close to 1:1 ratio to set on a white metal band (so H colour or better). Not sure of the exact setting description, that will be here choice, although classic/simple in style.
It looks to me the larger of the two is good value, assuming it is actually "eye clean". The inclusions look a little scary in the magnified photo. Can you give me any steer here, as both seem to meet the main criteria guidance you provide?
Will keep looking until I get better at this….
https://enchanteddiamonds.com/diamonds/compare?diamonds=C204-1NJE2D,C225-9TG6BZ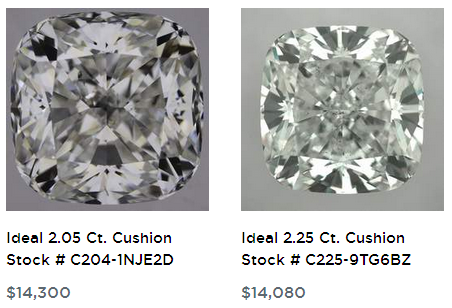 Thanks,
Jason
A:
Hi Jason,
Thanks for contacting me. I'm glad ODBA has offered some helpful advice to you on your diamond search.
The 2.05ct has good light performance, but as an SI1 this diamond is probably not eye-clean. The grade making inclusions are dark crystals which are visible in the images and HD video. The ASET image shows a lot of green light return, which means that this diamond although cut good, isn't the brightest. ASET's with primarily red light reflection is what we are aiming for. There does seem to be some minor light leakage through the pavilion as shown through the center of the diamond appearing dark.
The 2.25ct has a lot of clouds and these are scattered all throughout the diamond. I would not recommend this diamond on this characteristic alone.
So, the 2.05ct is the better of the two if you must have at least a 2.0ct diamond. However, it is worth considering a premium cut stone, if you wanted to see what else is out there. I highly recommend Brian Gavin Diamond's hearts and arrows cushion cut diamonds as these are cut to perfection and offer the highest light return and gorgeous optical symmetry. I actually own one in a 'K' color set in platinum and it faces up bright white.  (click here for my cushion cut diamond from BGD)
If you were looking for something similar in your budget, they do have a 1.524ct I VS1 for $13,576.00: http://www.briangavindiamonds.com/diamonds/diamond-details/1.524-i-vs1-cushion-diamond-ags-104068042004
Although this diamond is smaller in carat weight, the dimensions are 7.61 x 6.44 x 4.71 in mm, whereas the previous two diamonds measure 7.28 x 7.27 x 4.78 mm and 7.39 x 7.19 x 4.95 mm. So, the size difference is small. You can learn more about how they measure the H&A cushion cut diamonds here: http://www.briangavindiamonds.com/cushion-the-science-behind-the-sparkle
Overall, I'd say if you are looking for the carat weight kudos, then go for the 2.05ct. If you are looking for absolute perfection and don't mind compromising a teeny bit on carat weight, the 1.524ct will be stunning. If you can stretch your budget to around $20K, then this 1.715ct G VS1 is also of interest: http://www.briangavindiamonds.com/diamonds/diamond-details/1.715-g-vs1-cushion-diamond-ags-104066516011
Let me know if you have any questions. 😉
Kind Regards,
Liz
Q:
Liz,
Thanks for your guidance and advice. I have to admit to being quite challenged by this decision….
I had read your article previously on the necklace diamond you purchased from Brian Gavin (very informative) and I arrived pretty quickly at the conclusion that buying any diamond from BGD online would be a low risk solution for me, as I would get a high level of confidence in obtaining a very high specification diamond, regardless of my choice. All the diamonds I viewed on BGD's website looked to be in a different league to those available elsewhere online. Having said that, the quality of diamonds on offer from Brian does come at a cost and now the dilemma comes in purchasing a smaller piece of "perfection" vs. a relatively larger ct diamond from another vendor.
In chatting with my partner, I get the impression she has less bias to the flawless cut/condition of the diamond when compared to the ultimate ct grade, with due consideration to the diamond being "eye clean".
Is this a robust view/opinion, or is this strategy flawed?
If I were to go down this path of selecting a non hearts & arrows cushion, there is clearly the potential to pick a poor example from online retailers which does have me concerned, as I would like to find something I am comfortable with and have confidence in.
I agree with you that the physical dimensions of the BGD 1.5ct hearts & arrows diamond are minutely smaller than a c.2.1ct diamond.
To be honest I do not have sufficient confidence in selecting a suitable cushion cut diamond from an on-line retailer (other than Brian Gavin) without your assistance.
So as I see it, I have a choice. I either go alone and purchase a BGD diamond, which will be very high quality, but slightly smaller in ct than my partners preference, or I ask for your assistance in identifying a suitably high quality diamond from another online vendor, that is not H&A cut, but still cut to a very high standard, so that I have the confidence of independent professional advice in purchasing the best diamond in accordance with agreed criteria for my dollar.
I'm not quite sure how to progress from here? I think I may need you assistance…
Thanks,
Jason
A:
Hi Jason,
Hope you are well. I did another search online for you today and found this beautiful 1.94ct I VS2 for $13,860.00: https://enchanteddiamonds.com/diamonds/view/Cushion-Modified/GIA-Certified-1,94-Carat-I-Color-VS2-Clarity-Diamond-EZ1RYV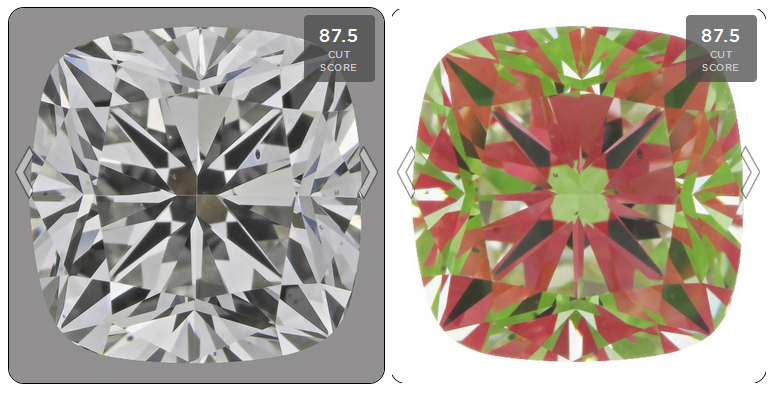 It has excellent light return as indicated by the red light reflection in the ASET image. It is not a hearts and arrows cushion, but does display a dark 'x' for contrast and has better symmetry than your previous two diamonds. It fits all your requirements of nearly 2.0ct, ideal light performance, and a 1.01 ratio. The grade making inclusion are several small crystals under the main table facet with one small dark crystal being noticeable in the magnified image. However, without magnification this would be difficult to see, especially with the dark contrast of the arrows helping to camouflage it.
Let me know what you think and if you have any questions.
Kind Regards,
Liz
Q:
Liz,
Fantastic. Great work!
The diamond does appear to be more symmetrical than others available online that are not H&A cut. I like it. As you suggest this one seems to hit all the criteria we were looking for and based on your recommendation, then I have that additional confidence that I'd be purchasing a high quality diamond.
Light return does look good, although obviously not as good as the BGD option, the colour grading is what we're looking for and the ratio being close to 1:1 is perfect.
To be honest I probably wouldn't have even looked at this one as the Enchanted Diamond "Cut Score" is quite low. I guess that maybe indicates how useful (or not) that metric is for ranking the diamonds available on their website? Am I missing anything here? How else do we assess the cut? What are the compromises of this particular diamond as you see it?
It does seem you've found a very good one here Liz, just when I was giving serious consideration to the smaller BGD one.
It looks like I now find myself in a very luck position of having a difficult decision to make…….. I'm going to have a serious think.
Thanks,
Jason
A:
Hi Jason,
Yes, the ASET image shows much more even red light distribution. I also like that this one has more of a distinct facet pattern and although it isn't a hearts and arrows, it does have nice symmetrical contrast.
The Enchanted Diamonds cut score is an aid to assist the new diamond buyer but it isn't by any means law. Evaluation of any and all diamonds should always be through visual inspection either online or in person. So, when I look for diamonds for readers/clients I always broaden the search criteria knowing that there are often hidden gems like this one sometimes.
The compromises with this diamond is less than perfect light performance (although I would say that AGS would still probably grade this diamond as ideal light performance due to all the red light reflection). There is slightly more light leakage through the center of the diamond, this due to the depth being a deeper at 69%. The VS2 clarity grade has a grade making inclusion of several crystals under the main table facet. In the magnified image you can just barely see them. Depending on your eye-sight the dark inclusions may just barely be visible without 10x's magnification.
I did another check on BGD's website and found this 1.524ct I VS1 for $13,576.00: http://www.briangavindiamonds.com/diamonds/diamond-details/1.524-i-vs1-cushion-diamond-ags-104068042004
Now, this diamond although smaller measures 7.61 x 6.44 x 4.71, whereas the 1.94ct measures 7.21 x 7.14 x 4.97 mm. So, the first diamond will definitely be noticeably larger than the BGD diamond. What you gain with the BGD is perfect light performance and brilliance, perfect optical symmetry, and of course as a VS1 it is perfectly eye-clean.
It will be a difficult decision! Both diamonds fit your budget but offer distinct compromises. As you said, if carat weight is the deciding factor then the 1.94ct will be the clear winner. If you think she won't mind going a little lower for improved light performance/brilliance and clarity, then go for the BGD diamond.
I recommend either one but this is a personal decision.
Please let me know if you have any further questions.
Kind Regards,
Liz
Q:
Well Liz,
I just wanted to let you know I've taken the plunge and purchased the 1.94ct Enchanted Diamond you recommended. It was a tough call and there was always going to be a compromise with the budget and aspirations, but based on my understanding of my partners preferences, I sure it's the one to go for and the facet pattern & symmetry is certainly very pretty to my eye, so I have no doubt she'll appreciate the choice.
I'm excited to see the stone with my own eyes and I will of course let you know how the purchase/delivery and surprise work out over the following few weeks.
Thank you again for helping me through this exercise, you have been a tremendous support.
Regard,
Jason
Hey.You Want Ideal Cut Diamonds?
You've got it.
Join ODBA's Diamond Deal Friday and get handpicked diamonds every week from me to you.
No consultation required. Subscribe now!