Q:
Hi Liz – First of all, thank you for your excellent website. It is an amazingly helpful resource. I've located a diamond (for an engagement ring) at Brian Gavin that fits my criteria and I would be very grateful if you could offer your opinion on it. Here it is: http://www.briangavindiamonds.com/diamonds/diamond-details/2.041-i-vs2-round-diamond-ags-104083068009
Kind regards,
Alex
A:
Hello Alex,
I'm glad to hear that ODBA has been helpful to you in your diamond education and search. I have reviewed your diamond and know that this will be an excellent choice for you. This VS2 is eye-clean and shows fantastic light performance as indicated via the ASET image on the AGS report. A great carat weight and color combination, allowing you to maximize your budget for a super-ideal H&A diamond.
Please let me know if you have any further questions.
Kind Regards,
Liz
Q:
Hi Liz, I let that one slip away! So the search continues. I really like the idea of buying from BGD. I would like to purchase something within the next two weeks although I don't have hard date in mind. I recently found this diamond at Brian Gavin, not much different from the the first one that I referred to you: http://www.briangavindiamonds.com/diamonds/diamond-details/2.047-i-vs2-round-diamond-470.00-104083681023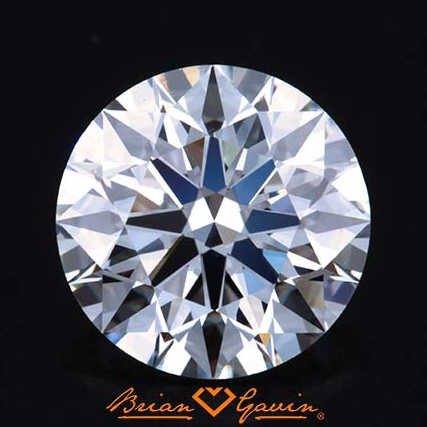 Do you know if Brain Gavin (or Enchanted or Zoara) has any sort of policy on responsible sourcing of diamonds? I realize this is a murky concept in the diamond trade. One reason I am drawn to Brian Gavin is the apparent quality of his stones and of course the superior cut, but I wonder what the sourcing of this materials is and if there is any kind of a policy to maintain high ethical standards there.
Many Thanks,
Alex
A:
Hi Alex,
BGD is absolutely conflict free. Here's a recent blog post where they go into detail on their diamond sourcing policy: http://www.briangavindiamonds.com/news/are-brian-gavin-diamonds-conflict-free/
As mentioned in the above article, it is very difficult to operate a business selling diamonds without acting in accordance with the Kimberley Diamond Act. All the retailers recommended by ODBA adhere to these strict requirements.
Your 2.047ct I VS2 is a very beautiful diamond. It's an exceptionally clean VS2 and a great value for money. It was literally graded on December 10th, and this is a very popular carat weight and color/clarity combination for the budget range so I'd move fast on this one and at least put it on hold. You don't want to risk losing this one too.
Let me know if you have any additional questions.
Best,
Liz
I Read Your Review Of Forevermark Diamonds…
Q:
Thank you, Liz. I read your review of Forevermark Diamonds. Is your assessment of them limited to online shopping? I ask because the one brick and mortar store that I've been to in Chicago, Fey&Co., sells Forevermark. I've scheduled a viewing of some of their stones for Thursday. However, I am not sure how wary I should be of the brand; their pricing is in-line with BGD and the sales person tells me that they cut/polish in a DeBeers owned factory in South Africa – in order to provide sustainable employment there near the mines. Not sure if this is marketing tripe or real.
Alex
A:
Hi Alex,
My assessment is of the brand in general and of retailers that resell Forevermark in their stores. My biggest concerns with the brand are:
– internal grading of diamonds as opposed to unbiased 3rd party non-affiliated grading provided by highly respected labs; ie. GIA, AGS
– lack of information pertaining to cut grade and therefore light performance analysis
– overpriced for lack of information, general lower quality when compared to more technically precise brands that are known for cut precision such as BGD
I personally would rather purchase from a 5th generation diamond cutter, from a family owned boutique business, rather than a big name brand that is overpriced and takes advantage of consumers ignorance of diamond quality and value.
Regards,
Liz
You Had Me At "5th Generation Diamond Cutter…"
Q:
Liz – You had me at "5th generation diamond cutter…" I completely agree. Thank you so much for your help. The diamond is … ordered! Wire is on the way. I called BGD as well and was reassured by their customer service.
Please let me know what I can do to reciprocate you for your knowledge, time and insight into this process. It is very much appreciated.
I'd be happy to write a testimonial, or if there is a donation tab for your site I can do that too.
Kind regards,
Alex
A:
I'm happy to hear that Alex. You won't be disappointed. 😉
Please be sure to click your link so that ODBA gets credit for your diamond referral. For more information on this, please see support ODBA.
Please stay in touch – and send pictures when your gorgeous engagement ring is made!!!
Best,
Liz
Hey.You Want Ideal Cut Diamonds?
You've got it.
Join ODBA's Diamond Deal Friday and get handpicked diamonds every week from me to you.
No consultation required. Subscribe now!